April 2017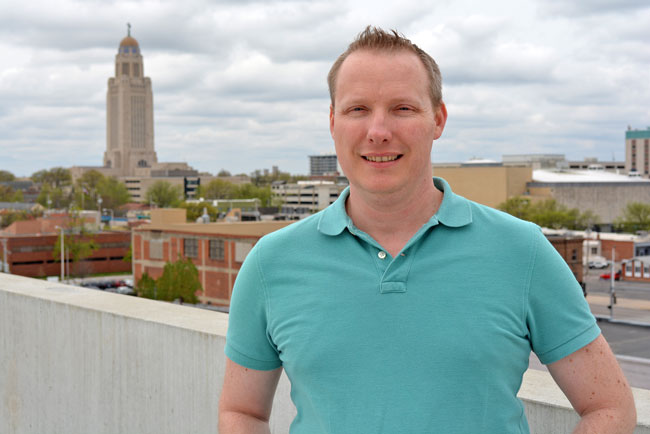 March 2017: Neil Watson
Nomination
Neil was nominated by his co-worker at Nebraska Lottery, Danielle Beebe, who said the following about her colleague:
"Not a day goes by that I don't swivel my chair around and say, "Hey, Neil? What's this about?" And not a day goes by that Neil Watson doesn't have the answer. He's a quiet star in our office, extremely reliable and very valuable. His moral and professional compass is always pointed in the right direction."
Neil is a long time employee of downtown. He has been at his current position for the Nebraska Lottery for over 6 years as a public information officer.
---
Q & A with Neil
1. How long have you been with your employer and/or working in Downtown Lincoln?
I've been with the Nebraska Lottery for 10 years.
2. What is your primary role in the workplace?
As Public Information Officer, I act as the spokesperson for the Lottery and handle our media relations and communications efforts.
3. What is your favorite part about working at your company?
Working at the Nebraska Lottery is all about having fun and giving back to Nebraska. We sell entertaining products, and that naturally attracts creative people. There's a great team here at the Lottery that I truly enjoy working with. I also appreciate the opportunity to try out different marketing ideas, from running Powerball blitz events across the state or playing a carnival barker for the launch of a new Scratch game. And the fact that Lottery proceeds support good causes like the environment and education is great motivation to do my best work.
4. What is your favorite place to eat in Downtown Lincoln?
There are so many choices, but I think Yia Yia's is my favorite.
5. What is your favorite thing to do in Downtown Lincoln?
Grabbing a beer with friends at Ploughshare, or taking a long walk around Antelope Valley.