March 2016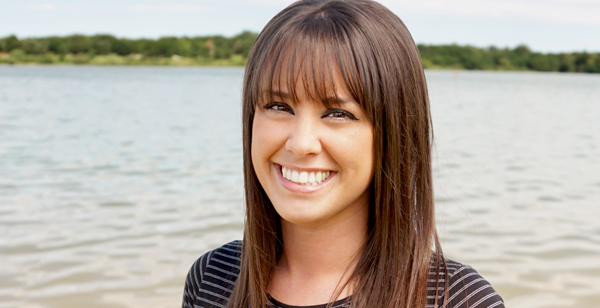 March 2016: Krista Vogel
Nomination
Krista Vogel was nominated by her boss, Bill Hipsher, who said the following about his colleague:
"Krista is always positive and looking to make positive change with our company for our employees and clients alike. As strong an advocate for what is right as anyone I've met."
"Krista runs the operations of Hurrdat and has navigated the team through growth and expansion as a company over the last 2 years. In addition she cares about SMB's in downtown and spotlights them on our website to show them some love when they are getting going."
---
Q & A with Krista
1. How long have you been with your employer and/or working in Downtown Lincoln?
I've been with Hurrdat for 4 1/2 years. In that time, we've had three different offices in the Haymarket and Downtown, so we've been fortunate to experience a lot of the growth and change in the area firsthand.
2. What is your primary role in the workplace?
As Agency Director, my job is to oversee agency strategy and operations. I manage an amazing team here and help ensure we're all doing great work in a place we love.
3. What is your favorite part about working at your company?
I love the tight-knit culture we've created and truly enjoy working with everyone on our team day in and day out. We all really care about each other and about our company's mission and work, and everyone is so willing to step outside their comfort zones to help each other out. I think that's really unique and amazing. 
4. What is your favorite place to eat in Downtown Lincoln?
Oh man, there are so many! Yia Yia's is my favorite sit-down spot, especially when I can also enjoy a beer from their impressive selection. For a quick meal, I'm all about The Sultan's Kite, Maggie's Vegetarian Wraps, and recently, the acai bowl at High Vibe Cafe.
5. What is your favorite thing to do in Downtown Lincoln?
I love eating lunch with friends outside at Tower Square and spending Saturday mornings at the Farmer's Market. The atmosphere here on Husker football game days is unbeatable, too; I love seeing the Sea of Red spill out onto the streets!