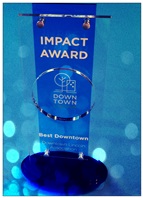 The Downtown Lincoln Association (DLA) announced the winners of their 2014 Downtown Impact Awards at their annual meeting October 29th. DLA's Impact Awards recognize businesses or individuals that have made a significant contribution to downtown Lincoln. Nearly 250 people attended the event held at the Embassy Suites Hotel. The six Downtown Impact Awards included were given to the following recipients:
Significant Private Development
Project Oscar, LLC | Olsson Associates Headquarters
In just a few short years, the Haymarket has witnessed a number of significant changes to the familiar landscape. Blending the old and new is important to the integrity of the city's historic district. The area has a rich history of maintaining the heritage of its original buildings, but new and vibrant structures like Project Oscar are certainly welcome. While the four-story building gleams with modern design, it seems to fit comfortably in its new spot.
Olsson Associates brings its own established history to the Haymarket. With over 900 employees in 24 offices across the Midwest and Southwest, Olsson has been headquartered in Lincoln since it was established in 1956. In fact, Olsson has always had its central office in a Downtown location. When discussion about relocating and building a new space began about three years ago, Olsson reached out to Tetrad Property Group and the partnership was formed. Tetrad, with its well-established record of long-term ownership in real estate and facilities, took the lead as the developer, and the true work began.
The resulting $17 million building is 82,000 square feet in size, with Olsson occupying 46,000 square feet. The 200 Lincoln employees moved in August to offices on the second and third floor of the building with a roof deck on the third floor that will also be open to other tenant employees. On the ground level, a courtyard is open to the public. Plans still call for perhaps an office tenant on the fourth floor with the first floor open for retail. Project Oscar is the first office building to open in West Haymarket, far sooner than expected, effectively accelerating the next wave of developments.
Residential Development Award
Tru-Built Construction | 1421 P Street Project
Tru-Built co-owners Bo Jones and Steve Powell started working together in 1999 while they were students attending the University of Nebraska- Lincoln. Their first projects were small and could be completed around their class schedules, but projects soon became more frequent and on a larger scale. Tru-Built quickly turned into one of Lincoln's leading single family home developers specializing in high end homes.
Many were skeptical when Bo and Steve said they would like to take a look at renovating the property at 1421 P Street, officially known as the Case, Case and Case building. Several developers had looked at renovating this building previously. They all came to the same conclusion. "We can't make it work financially".
That skepticism turned to cautious optimism as Bo and Steve said they were willing to undertake the renovation of this building that was the cause of so much angst downtown. Many people recognized this building was truly detrimental for the entire area.
Tru-Built totally gutted the century old building and built 28 studio, one bedroom, and two bedroom apartments in the building. Further, they took a dark and dangerous alley located behind the building that most people wanted to avoid, especially at night, and converted it into a vibrant courtyard that serves as a gathering point not only for residents of the building but also for patrons of the adjoining businesses.
The renovation of this relatively small three story red brick building has had an impact far beyond the walls of the building. It is now a contributing property to the vibrant P Street District developing around it, and it is a reflection of a Downtown where people want to work, play and live.
Business Leadership
Marcus Corporation
Leadership takes many forms, and supporting a community, leading it toward sustaining a vital downtown requires a great deal of commitment. Marcus Corporation has given us marked evidence of that very commitment in two different projects.
During the last year with construction in the P Street District, the Marcus Company's Grand Cinema could have been forgiven if it had elected to delay taking risks on major renovation and upgrades to its theatre complex. But in January, the Grand went ahead with plans to add a lounge area which serves alcohol, a pizzeria, and a remodeling of one of its theatres, resulting in reclining Dream Lounger seating and an Ultra Screen visual experience. A significant amount of capital was invested in the renovations, but the project has further ensured the relevancy and appeal of the city's biggest cinema.
Perhaps an even greater contribution to the downtown community was the Marcus Company's purchase of the Cornhusker Hotel in 2012. While this particular incarnation of the Cornhusker Hotel building has only been around since 1983, the Cornhusker has been a Lincoln fixture since 1926. With financial difficulties due to the 2008 financial crisis, previous owners left the future of this most recognizable and historic Lincoln landmark up in the air. Thankfully, that period of uncertainty did not last long, but take a moment and try to imagine what downtown Lincoln would be like today if the Cornhusker had shuttered its doors for good. Instead, with leadership from Marcus, the Cornhusker is seeing a resurgence. Recent renovation in the public and guest areas are a hallmark of a new vibrancy for the hotel, helping to guarantee its landmark status for future generations.
Downtown Champion
Clay Smith
As a co-founder and general partner of Speedway, Clay has led the team on numerous projects in Downtown and the Haymarket that have significant impact. Recognizing that historic buildings create a sense of place for a community, many projects have involved restoration of historic buildings. This shows a commitment to the area since preserving the historic nature of a structure often requires greater resources. Bringing an historic building into the modern century to meet the needs of any office, retail or restaurant client that might move in after completion takes thoughtful and creative planning.
Last year DLA recognized the Cadillac Lofts for its unique façade and state-of-the-art amenities within a structure from the turn of the century. An immensely successful project, and yet merely one blip on a map full of successes for Clay and Speedway. The Tool House in the Haymarket, now home to a vast array of tenants, including 60 recently completed residential units, was not much more than an eyesore only a few short years ago. A blend of old and new, the Hilton Garden Inn adjoins the original structure. The old Salvation Army Building is another location able to boast a unique conglomerate of businesses thanks to Clay and his team.
Not content to simply restore or redevelop a building, the area has seen Clay's appreciation for the visual arts expressed through the Cadillac Lofts, as well as new pieces from Jun Kaneko outside of the Hilton Garden Inn.
Always looking forward and gauging the needs for Downtown, Clay was an engaged proponent of the BID expansion into the West Haymarket, understanding that the benefits would be vital to the long term success and development of the area. With each successive endeavor, Clay has pushed Speedway to the forefront of developing trends.
Young Entrepreneur
Paul & Stephanie Jarrett
A downtown business from its beginning, and now located in the P St. District, Bulu Box provides vitamins and other health and nutrition products in sample sizes via monthly or annual subscriptions. To further engage customers, Bulu Box encourages users to review the products through online surveys and social media. Those users are then rewarded with points which can be applied to the purchase of the retail version of the items in question.
In embracing technology, web 2.0 and a positive work culture, Bulu Box has assembled a strong and savvy core staff in a growing market hungry for new products, services and experiences. It is because of that willingness to adapt to the times that Bulu Box has been featured in the Wall St. Journal, as well as magazines such as INC, Glamour, Lucky, Men's Fitness and Women's Health. With a staggering list of monthly subscribers, Bulu Box has reached all 50 states.
This is great for Paul and Stephanie, but it's also good news for Lincoln. With a strong and growing presence from Bulu Box, other new entities will gravitate towards the same area. Their embrace of e-commerce technology further encourages an association between downtown Lincoln and innovation in business. You don't have to be in Silicon Valley anymore to find exciting opportunities with start-ups and tech firms. It can happen right here, right now, and the Bulu Box team is proof of that.
Significant Public Development
P Street District | Tower Square
It was the 2005 Downtown Master Plan which first identified the potential for P Street as a retail corridor, and with extensive planning and construction phases, the P Street District project was simply too big to ignore. Whether you work or live in the heart of downtown or on the edges of the city, chances are you have been aware of both the challenges and the potential of the project.
As construction neared completion, the area could begin to see the public benefit quite clearly. With the distinctive presence of Tower Square and its iconic art installation to the colorful banners, lighting, benches, walkable crossings, and extensive landscaping---the list of features is long. The district has a new and unique night presence as well, as it takes on a whole new identity with the lighting of the benches, banners, and all other elements of design. The entire area is more attractive and walkable, making for a cohesive and unified district with something for everyone.
Perhaps less visible is what a benefit that long list of amenities and improvements will be for the businesses operating in the District and beyond. While the focus may be on P Street, these improvements benefit the health and vitality of downtown as well as the entire community. A revitalized P Street District becomes a central connector to the Historic Haymarket on the west and Antelope Valley to the east.
While creating a connected retail district was identified in the Master Plan, it was thanks to Mayor Beutler's overall vision for a dynamic downtown that helped bring the concept to light. Along with Mayor Beutler's foresight, there is a need to acknowledge the sacrifice and patience of the retailers along this corridor. This project could not have been completed without both parties working hand in hand to make it become a reality.