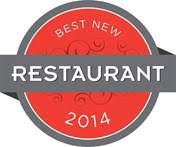 Lincoln voted and selected Ploughshare Brewing Co. as the Best New Restaurant in 2014. The Lincoln Journal Star sponsored competition was stiff, as a record 35 new restaurants opened up in Lincoln last year. "We are honored to be given this award when there were so many wonderful new places that entered the market last year. I give my compliments to our chef, Jesse Anderson, our front room manager, Adam Stitt and head brew master, Bendan McGinn. All three are responsible for the overall experiences our patrons have," commented Matt Stinchfield, owner. Ploughshare Brewing Co. opened in June 2014 and is located at 1630 P Street, Lincoln, NE.
Lincoln residents were invited to vote online for their favorite new restaurant during the week-long event. Each person could vote one time per day. The award was announced on Friday, February 6 in Ground Zero.
Ploughshare Brewing Co. offers a rich seasonal menu that features traditional beer cuisine. Ingredients are sourced from Nebraska-based producers and farmers, with a focus on sustainable resources and an emphasis on organic ingredients. Everything is made from scratch in house and the menu always includes a selection of vegetarian and gluten free options. Special attention is given to crafting a menu that works harmoniously with Ploughshare beers.
Ploughshare Brewing Co. offers a rotation of their own craft beer on 12 taps. It has seven year-round brews and four special seasonal beers released quarterly. In addition, the taproom will always highlight some of their personal favorites from friends in other breweries. It also offers wine and non-alcoholic beverages, including fresh French pressed coffee and nostalgic sodas. The brewery uses traditional brewing methods and styles, and sources only the highest quality ingredients for its bee. Learn more at www.ploughsharebrewing.com or Like our Facebook page at www.facebook.com/PloughshareBrewingCo