The Railyard has a new hotspot and they are challenging you to be an arcade hotshot! Located on the second level of the Haymarket's entertainment district, Joysticks Arcade Bar combines 70's lounge with a modern touch.
Well known video game names line the walls prompting nostalgia of your middle school skate rink or the haven from mom's shopping adventures to the mall. Donkey Kong, Ms. Pac Man, and NBA Jam light up the already colorful room that will feature a growing menu of food on a stick, numerous TVs, and a great selection of beer and cocktails. The design of the room is playful. Buttoned tufting lines the bar and runs up the south wall covering the kitchen door, much like décor in Pee Wee's Playhouse or a bar from Pulp Fiction. The walls echo the array of primary colors also found in Joysticks' modern switchable LED lighting.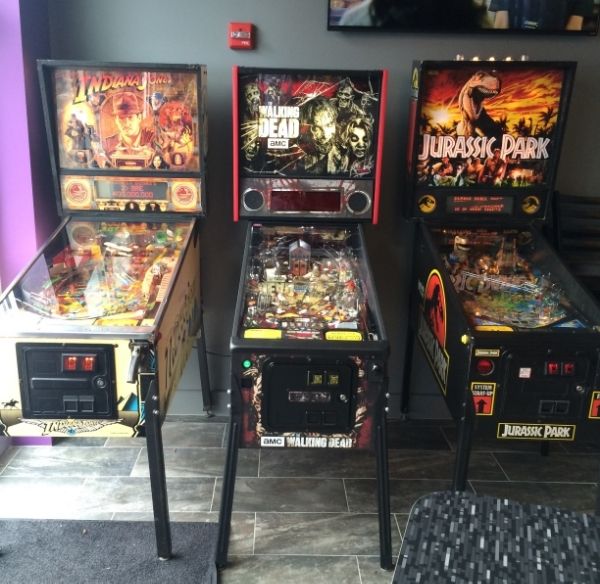 Everything is on a stick! Reminiscent of gourmet food trucks in Austin, Texas, or maybe the best corndog stand at the carnival, Joysticks features kabobs, burger bites, and a signature chicken and waffles on a stick. There are also a couple vegetarian options, tons of fun dips, and some tasty desserts. Starting out the venue has developed a small portion menu with all quick in-house preparation. The menu will continue to grow, with even more delicious comfort food coming soon, on a stick of course.
Open 7 days a week, hours on Sunday through Thursday will be 11am to close and till 2am on the weekend. A nice bonus for late night patrons of the Haymarket will be the late night kitchen serving food up until closing time.
For more information visit: joysticksarcadebar.com
Facebook: facebook.com/JoysticksArcadeBar
Twitter: twitter.com/Joysticks402