SUMMER ART CRAWL FUN!!!!
New printed maps available at all the galleries.
Happy First Friday everyone!
June's Downtown First Friday listings:
New Gallery Downtown:
Where: Sourpuss Studios, 903 O St, Lincoln, Nebraska 68508
When: 7pm - 10pm
Who: New ink and collage drawings by Sourpuss Studios' Susan Oltman. Combining patterns and figurative elements to explore form and viewership.
What: http://www.sourpussstudio.com/
A FUN SPECIAL EVENT:
Where: Licorice International, 803 Q Street
When: 6pm - 7:30pm
Who: Black Eyed Susan, a two piece band made up of Lincolnites Jen Jurgens and Laurie Fraser, puts a new spin on bluegrass and folk. Covering bluegrass classics such as Buck Owen's Truck Driving Man and Levon's Helm's Got Me A Woman, their repertoire includes covers from unknown artists from around the globe as well as folk, and original songs composed by Laurie Fraser.
Jen, an accomplished musician who has played with several bands over the years, hones her skill on guitar with vocals and harmonies. Laurie Fraser, formerly of Grassfire, plays guitar and adds vocals with a clear, low alto range. Their harmonic, rich voices dip, wheel, and whirl around each other and the melody of each song with uncanny precision. The duo offers a tight blend of contemporary folk with two uniquely powerful voices joined together to create beautiful and sunny music.
Free samples and lemonade will be available during their performance
What: http://www.licoriceinternational.com/


UNL ALUMNI EXHIBITION!
Where: Eisentrager-Howard Gallery, First floor of Richards Hall, Stadium Drive and T streets on UNL City Campus
When: 5pm - 7pm
Who: Forty-three alumni from the University of Nebraska–Lincoln's Department of Art and Art History will show their work this summer in the exhibition "UNL Alumni Artists 1970-1974" in the Eisentrager-Howard Gallery in Richards Hall.
What: http://arts.unl.edu/


Phil Perry, "Shrouded Tetons," archival pigment print, 2014.


Where: Gallery Nine, 124 S. 9th St.
When: 6:30pm - 9:30pm
Who: "Nightmares and Fantasies"
New work by painters Mark Coyle and Lori Salts. Exploring the opposing views of Fear and Illusion, of Agony and Ecstasy.
What: https://gallerynine.wordpress.com


Where: Doc's Place, 140 N. 8th St.
When: 6pm - 9pm
Who: Deborah Schaben: Shooting the Sacred and Profane. The exhibition includes photographs from Schaben's solo travel, both local and abroad. She attempts to photograph God in both the sacred and profane things found in her environment. She also sees others defining their sacred objects out of the mundane: a surf board, a windmill, or a seashell. When Schaben isn't traveling, she is a newspaper reporter, photographer, and educator in rural Nebraska.
What: https://www.facebook.com/DocsPlaceBar


Where: Burkholder Project, 719 P St.
When: 5:30pm - 8:30pm
Who: MAIN GALLERY and SKYLIGHT GALLERY: 'Convergence' – Paintings by Laron McGinn and Roberta Barnes, Photography by Anne Thomas, and Artistic Wood Turnings by Harold Adams. OUTBACK GALLERY: 'Mind-Scapes' – Acrylic & Graphite Paintings by Jay Gerber, and 'Mind-Scrapes' – Wood and Steel Sculptures by Robert Dewaele. SPECIAL EXHIBIT: 'Contemporary Realism' – Paintings by Dale Macafee
What: http://www.burkholderproject.com/


Where: Noyes Art Gallery, 119 S. 9th St.
When: 6:00 pm - 9:00 pm
Who: Artist Chairs: Suzi Woodford & Julie Craw
What: http://www.noyesartgallery.com/


Where: Tugboat Gallery, 116 N. 14th St.
When: 7pm - 10 pm
Who: "motivational speaking" featuring drawings by Rachel Hardin and a one night performance by Laura Carlson in collaboration with Stephanie Diaz, Katie F-S, and Monica Ortiz, with DJ ol' moanin. Show closes on June 27th. "motivational speaking" is a culmination of human bodies, sugar, morning routines and spatial discomfort.
What: http://www.tugboatgallery.com/


Where: Sheldon Museum of Art, 12th and R St.
When: 5pm - 7pm
Who: Land of Enchantment: New Mexico as Cultural Crossroads. For thousands of years, New Mexico—or more broadly the desert Southwest—has hosted waves of human habitation, each with its own distinctive material culture. Situated on the north-south trade route between Colorado and Mexico and at the western edge of the Great Plains, the area's diverse topography and population have inspired countless visual responses from petroglyphs to photographs. The state's relative isolation—at least before the mid-twentieth century—provided a backdrop upon which the movement of goods, practices, ideas, and iconography could be readily traced.
On view through August 23, Land of Enchantment foregrounds Sheldon's collecting strength of fine and decorative arts with connections to New Mexico and the geographical and cultural allure of the Southwest.
What: http://www.sheldonartmuseum.org/


Where: Great Plains Art Museum, 1155 Q St.
When: 5pm - 7pm
Who: "Looking Back, Looking Forward: Native American Art from the Permanent Collection"
Inspired by the Standing Bear and the Trail Ahead Symposium, "Looking Back, Looking Forward: Native American Art from the Permanent Collection" features different forms of artistic expression found in Native American artworks from the Great Plains Art Museum's permanent collection.
Alongside works by Native American artists, stereoviews and photographs from the 19th Century portray the indigenous peoples of the Great Plains as captured through a non-native lens. Such images provide a glimpse of a way of life that inspired artists of later generations and demonstrates the significance of Native American culture in the past, present, and future of the Great Plains.
What: http://www.unl.edu/plains/gallery/gallery.shtml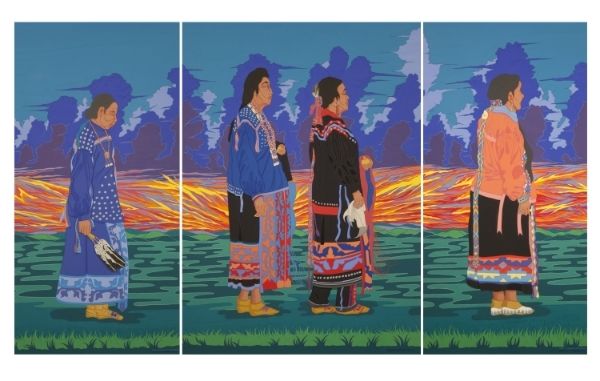 Where: Metro Gallery, 1316 'N' Street
When: 3 pm - 7 pm
Who: METRO GALLERY is will feature new works by Amber Roland for the month of June 2015. First Friday June 5 Open House is set for 3 - 7. A special exhibit will be up for the month, Neon art by Michael Flechtner, he designed the USPS stamp, "Celebrate", Come meet Amber, Snacks and wine will be served.
What: https://www.facebook.com/MetroGalleryNebraska


Where: Kiechel Fine Art, 1208 "O" St.
When: 6pm - 9pm
Who: Kiechel Fine Art is proud to announce the first
Midwest solo exhibition for the Korean born artist, Kira Nam Greene. Currently living and
working in New York City - Greene has been creating a showcase since Spring 2014 to unveil
for Kiechel Fine Art's June First Friday with an opening reception from 6 - 9 PM Friday, June
5th.
Kira Nam Greene achieved her Bachelors of Fine Arts from the San Francisco Art Institute;
then achieved her Masters of Fine Art in Painting from the School of Visual Arts in New
York City. Painting had become the stronghold passion later in life after achieving her
Bachelors Associate in International Relations in 1988 from Seoul National University
in Seoul, South Korea and then accomplishing her Ph. D in Political Science at Stanford
University. Since her time at the San Francisco Art Institute Kira Nam Greene has been an
active artist across the United States and parts of Asia. Consistently winning awards across
the last two decades Kira Nam Greene shows no intention of slowing down her craft but
continually accomplishing new levels.


Kira Nam Greene, Nebraska Suite No. 5: Reddi to Wip,Watercolor, colored pencil and gouache on paper, 44 x 30 inches, 2015.


Where: The Railyard, Canopy Street.
When: 5pm - 8pm
Who: This month, the Railyard will have the privilege of working with three students from Nebraska – Chloe Neuvirth, Sarah Craw, and Jessica Dolan. Each of them will be showcasing between two and five pieces in the Public Market
What: http://www.railyardLNK.com/


Where: Workspace Gallery, Sawmill Building | 440 N. 8th Street
When: 6pm - 8pm
Who: Ardine Nelson - "Inventing Landscape"
Black and white photography, landscape, secret spaces, plastic cameras, multiple views as one, mans' arrangement within the landscape: all these are my most basic means of expression. Although I have worked in many other ways these are the ideas I return to. When I visit a new place, whatever else I may do, my Diana camera comes out of the bag and I explore. The resulting work both documents and interprets the environments I find.
What: https://sites.google.com/site/workspacegallery/




Where: Crescent Moon Coffee, 140 N. 8th St.
When: 7pm - 10pm
Who: Photography by Joshua Redwine and acoustic blues with C.A. Waller at 8pm.
What: http://www.crescentmooncoffee.com/


Where: Rocketship Gallery, 941 O St. Suite 100
When: 6pm - 9pm
Who: "Colors of Spring" by resident artist, Don Farrall, plus ICE CREAM!!!
What: http://www.rocketshipgallery.com/


Where: Jake's, 101 N. 14th St.
When: 7pm - 2am
Who: Fantasy Painting by Lon Hunt
What: http://jakescigars.com/


Where: The Hot Mess, 408 S. 11th St.
When: 6pm - 8pm
Who: Lisa Guevara: A collection of paintings that exposes the intimate evaluation the subject has of herself while conclusions of her are being made by the viewer. The ambiguous narrative suggested by the setting blurs any definite deduction the viewer may have about the subject, causing them to question their original implicit judgments.
What: https://www.facebook.com/getmessy


Where: Ploughshare Brewing Co. 1630 P St.
When: 7:30pm - 9:30pm
Who:
What: http://ploughsharebrewing.com/


Where: Gallery 105, 105 8th St.
When: 7pm - 10pm
Who:
What: http://www.bin105.com/


Where: Indigo Bridge Books, 701 P St.
When: 7pm - 9pm
Who: curated by Artists on the Edge.
What: http://www.indigobridgebooks.com/


Where: Screen Ink, 416 S. 11th St.
When: 7pm - 10pm
Who: no show this month
What: http://screenink.com


Make sure you check out photos and extra info from the two excellent facebook pages.
https://www.facebook.com/FirstFridaysLincoln
https://www.facebook.com/LincolnFirstFriday


Also there is a Twitter Account for First Friday. Check it out: https://twitter.com/LNKFirstFriday or the hashtag #LNKFF


As always, if we've missed any listings feel free to send us a quick email at smunson@downtownlincoln.org and we'll get your listing added as soon as possible.