School is back and the September weather is going to be great!
September's Downtown First Friday listings:
NEW LISTING!!!
Where: Lincoln Nonprofit Hub, 211 N 14th St
When: 4 PM - 7 PM
Who: Paintings by Elizabeth Noble. http://theartistnaturalist.com/
What: www.nonprofithub.org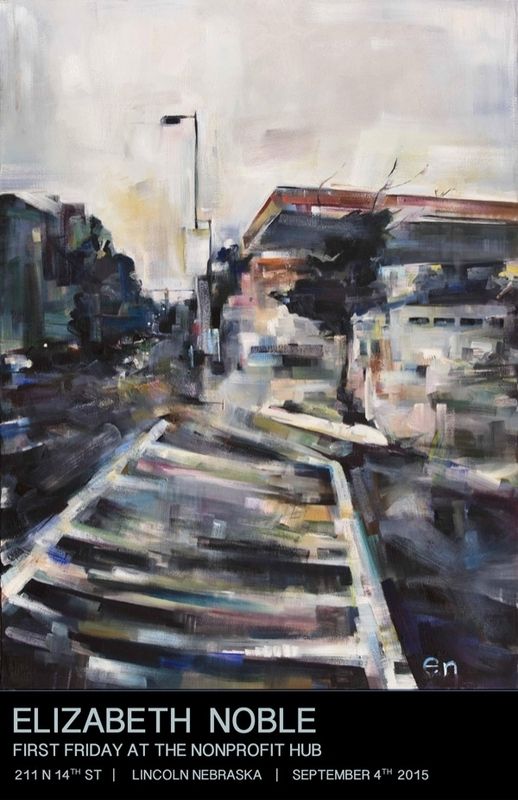 Where: Gallery Nine, 124 S. 9th St.
When: 6:30 PM - 9:30 PM
Who: "New Work by DeVall & Patterson"
In September, Gallery 9 will feature new works by Painter Cathy Patterson and Multi Media Artist Carol DeVall. Experience this eclectic show featuring Paintings in Watercolor and acrylic on paper and Fetish Assemblages in ceramic and other media.
+++
"The Fine Art of Experience"
In celebrating the Artistic accomplishments of our Older Nebraskans, artists were asked to create pieces that celebrate the personal growth and change that comes from our individual aging; "Aging Is Becoming . . . Featured will be the works of artists aged 60+.
Music provided by Julie Felzien at the piano.
What: https://gallerynine.wordpress.com



Where: Tugboat Gallery, 116 N. 14th St.
When: 7 PM - 10 PM
Who: "Chitty Chatty Bang Bang" featuring Adrienne Smart and Larry Buller with DJ ol' moanin', closing on September 26th. "Chitty Chatty Bang Bang" is a reflection and comparison of hard and delicate, spoken and implied, found and deliberate utilizing ceramics, text and pattern.
What: http://www.tugboatgallery.com/


Where: Metro Gallery, 1316 'N' Street
When: 3 PM - 5:30 PM
Who: Paintings by Leora Platte
What: https://www.facebook.com/MetroGalleryNebraska


Where: Eisentrager-Howard Gallery, First floor of Richards Hall, Stadium Drive and T streets on UNL City Campus
When: 5 PM - 7 PM
Who: The University of Nebraska–Lincoln's Department of Art and Art History announces the fourth annual Nebraska National Undergraduate Juried Art Exhibition. The exhibition will feature the work of the best undergraduate student artists from across the country. The awards announced at 6 p.m. Each year, three different media disciplines are featured in the exhibition. This year's show includes sculpture, painting and drawing.
What: http://arts.unl.edu/


Where: Kiechel Fine Art, 1208 O St.
When: 6pm - 9pm
Who: Spotlighting the Dan Howard's DHFS & CO. 60 works all together that are brand new by award winning Nebraskan artist.
What: www.kiechelart.com




Where: Burkholder Project, 719 P St.
When: 5:30pm - 8:00pm
Who: MAIN GALLERY: 'Connections' – Water Media Paintings by Patsy Smith and Batik Textiles by Sammy Lynn. OUTBACK GALLERY: Bronze Sculpture by Pete Wroblewski and Mixed Media Paintings by Liz Shea McCoy. SKYLIGHT GALLERY: 'Places' – Acrylic Paintings by Patrick Gauthier. SPECIAL EXHIBIT: 'Life Among the Clouds' – Photographs by Jeremy Thiessen
What: http://www.burkholderproject.com/


Where: Sourpuss Studios, 903 O St, Lincoln, Nebraska 68508
When: 7 PM - 10 PM
Who: "Corpse" paintings and sculptures by Kyle Choy.
What: http://www.sourpussstudio.com/


Where: Great Plains Art Museum, 1155 Q St.
When: 5 PM - 7 PM
Who: We Are Star People: The Art and Poetry of Gwen Westerman. Artist Talk at 6pm.
Recent work by Gwen Westerman, 2014 Contemporary Indigeneity Exhibition Prize winner, features unique quilts and textiles alongside poetry inspired by personal connections to her Dakota family history. Dr. Westerman is a professor of English at Minnesota State University, Mankato. She co-authored MniSota Makoce: The Land of the Dakota, with Bruce White, which won a Minnesota Book Award and has published a collection of poetry written in Dakota and English entitled Follow the Blackbirds
What: http://www.unl.edu/plains/gallery/gallery.shtml



Where: Sheldon Museum of Art, 12th and R St.
When: 5 PM - 7 PM
Who: Four Civil Rights Shows opening on the 11th.
Black Fire: A Constant State of Revolution - September 11, 2015, through January 3, 2016
Jazz pianist Andrew Hill's 1964 recording Black Fire and this exhibition share basic precepts: moments of transition. Drawn primarily from the Sheldon collection, a small group of large-scale works present narrative threads of African American experience from passage of the Civil Rights Act of 1964 to the present.
Emory Douglas: Power to the People, The Struggle Continues - September 11, 2015, through January 3, 2016
As revolutionary artist and minister of culture for the Black Panther Party, Emory Douglas illustrated and designed the group's newspaper. His poignant visuals document the party's use of art to inspire self-determination and impel social change through the economic, political, and social empowerment of oppressed peoples.
Gordon Parks: Segregation Story - September 11, 2015, through January 3, 2016
This exhibition comprises images from Gordon Parks's photo essay "The Restraints: Open and Hidden," commissioned by Life magazine in 1956. In this work, Parks chronicled the everyday lives of a multigenerational black family living in the Jim Crow South.
James VanDerZee - September 11, 2015, through January 3, 2016
Having opened his first studio in 1917, James VanDerZee documented Harlem's artistic and cultural renaissance, photographing landmarks, parades, funerals, social clubs, political and religious organizations, affluent families, and celebrities.
What: http://www.sheldonartmuseum.org/


Where: Workspace Gallery, Sawmill Building | 440 N. 8th Street
When: 6 PM - 8 PM
Who: Ken Marchionno - "300 Miles, Oomaka Tokatakiya"
In 2004, I was invited by members of the Lakota Tribes of South Dakota to photograph the Oomaka Totatakiya, Future Generations Ride. The Oomaka Totatakiya is an annual, nearly three hundred mile memorial horseback ride to the site of the Wounded Knee massacre. These images are an important document of a historical event, reenacting a journey that ended at the site of the final "battle" of the Indian Wars.
This work depicts ten years of that journey. The photographs focus as much on the ride, its landscape and hardship, as it does the individuals involved. Taken from both horseback and support vehicles, the images offer a unique perspective and an intimate view. Included in the essay are images of the ride, in both cross-country and urban settings, lunch and dinner breaks, sleeping arrangements, and the unguarded moments of everyday life on the trail.
The sense of accomplishment and camaraderie that is nurtured by the ride goes a long way toward healing the pain of living in lands occupied for generations. With poverty rates of over fifty percent and unemployment rates over seventy, these are consistently the very poorest communities in the U.S. This is a place that gives people little reason for hope and the ride is a fight against that.


In contrast to the dominant, disheartening imagery coming from the reservation, this work concentrates on the Lakota's efforts toward self-empowerment. While the ride is in many ways in homage to those who lost their lives at Wounded Knee, this ride is also meant to foster leadership qualities in the youth. Along the way, the riders experience some of what their ancestors endured by embodying an intellectual, spiritual, and physical remembrance. Braving the cold—down to –20°F—these kids, some of them barely into puberty, ride as many as 35 miles in a day to complete the 300 miles.
What: https://sites.google.com/site/workspacegallery/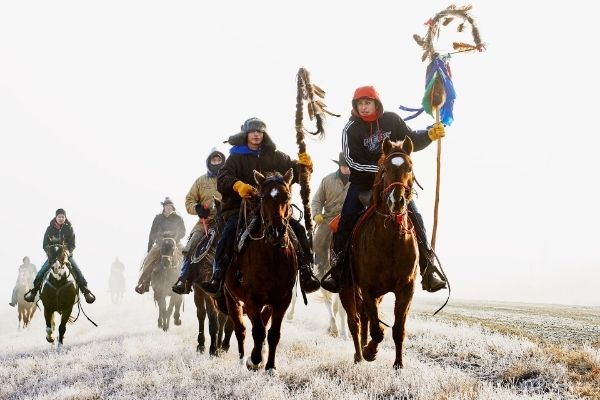 Where: The Hot Mess, 408 S. 11th St.
When: 6pm - 8pm
Who: Drawings and Painting from Tania Marr.
What: https://www.facebook.com/getmessy


Where: Rocketship Gallery, 941 O St., Suite 100
When: 6 PM - 9 PM
Who: Come and see the new and fresh art offerings, along with some yummy treats! As always, remember that there is free parking during First Fridays in the lot to the south of the Terminal Building. Just look for the Rocketship Gallery signs.
What: http://www.rocketshipgallery.com/




Where: Crescent Moon Coffee, 140 N. 8th St.
When: 7 PM - 10 PM
Who:
What: http://www.crescentmooncoffee.com/


Where: Doc's Place, 140 N. 8th St.
When: 6 PM - 9 PM
Who:
What: https://www.facebook.com/DocsPlaceBar


Where: Jake's, 101 N. 14th St.
When: 7 PM - 2 AM
Who: tba
What: http://jakescigars.com/


Where: The Railyard, Canopy Street.
When: 5 PM - 8 PM
Who: No show this month
What: http://www.railyardLNK.com/


Where: Ploughshare Brewing Co. 1630 P St.
When: 7:30 PM - 9:30 PM
Who: No show this month
What: http://ploughsharebrewing.com/


Where: Gallery 105, 105 8th St.
When: 7 PM - 10 PM
Who: No show this month
What: http://www.bin105.com/


Where: Indigo Bridge Books, 701 P St.
When: 7 PM - 9 PM
Who: Curated by Artists on the Edge.
What: http://www.indigobridgebooks.com/


Where: Screen Ink, 416 S. 11th St.
When: 7 PM - 10 PM
Who: No show this month
What: http://screenink.com


Where: Licorice International, 803 Q Street
When: 6 PM - 7:30 PM
Who: No Show this month
What: http://www.licoriceinternational.com/


Where: Noyes Art Gallery, 119 S. 9th St.
When: 6:00 PM - 9:00 PM
Who:
What: http://www.noyesartgallery.com/


Printed maps available at all the galleries.
Make sure you check out photos and extra info from the two excellent facebook pages.
https://www.facebook.com/FirstFridaysLincoln
https://www.facebook.com/LincolnFirstFriday


Also there is a Twitter Account for First Friday. Check it out: https://twitter.com/LNKFirstFriday or the hashtag #LNKFF


As always, if we've missed any listings feel free to send us a quick email at smunson@downtownlincoln.org and we'll get your listing added as soon as possible.