Oh the weather outside is frightful, but the downtown art is so delightful! Get out and enjoy the holiday cheer and remember...art makes a great gift!
December's Downtown First Friday listings:
Special shows this month:
Where: Sheldon Museum of Art, 12th and R St.
When: 5 PM
Who: Chamber Singers to provide festive music at Sheldon Museum of Art
The University of Nebraska's Glenn Korff School of Music Chamber Singers will, once again, give a brief performance at the Sheldon Museum of Art FIRST FRIDAY celebration at 5 p.m. on December 4th.
The program will include festive music suitable to the occasion and appropriate to the upcoming Holiday Season. Following a few selections in the main hall, the singers, joined by an 8-piece brass ensemble will reconvene in the auditorium with comfortable seating and recital stage.
The Chamber Singers consist of 28 of UNL's finest singers conducted by Earl "Pete" Jenkins Endowed Visiting Choral Artist Dr. Eph Ehly. The performance is free and open to the public.
Also continuing.... Black Fire: A Constant State of Revolution - September 11, 2015, through January 3, 2016
What: http://www.sheldonartmuseum.org/


Where: Lincoln Nonprofit Hub, 211 N 14th St - 3rd Floor
When: 4 PM - 9 PM
Who: METRO GALLERY is curating a fund raiser for St. Monica's. This show will feature paintings by Bob Donlan and the exhibit will be up in the space through the month of December. Beverages and snacks will be available. New material for a great cause, come meet the artist and help St. Monica's.
What: www.nonprofithub.org
Where: Love Library South. 1400 R Street,.
When: 5 PM - 7 PM
Who: The 9th Annual UNL Staff Art Show will open on the second floor of Love Library and feature art pieces created by UNL employees from various departments across the UNL campus. A reception is scheduled for November 6 from 5:00-7:00 pm, during Lincoln's First Friday Art Walk. The Art Show will run until December 19 and is located on the second floor in areas accessible all the hours that Love Library is open. Love Library is open Monday-Thursday, 7:30 am - Midnight, Friday, 7:30 am - 8:00 pm, Saturday, 9:00 am - 5:00 pm and Sunday, Noon - Midnight.
What: http://goo.gl/VTPrcW#sthash.SMILQMb2.dpuf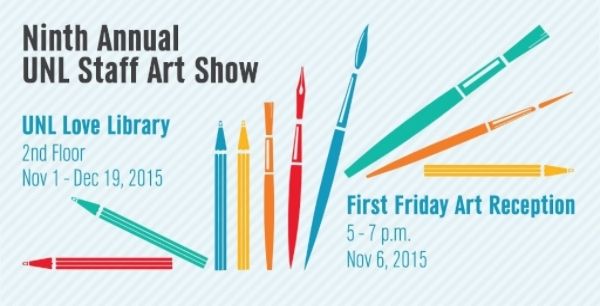 The Best of the Rest....


Where: Gallery Nine, 124 S. 9th St.
When: 6:30 PM - 9:30 PM
Who: Featuring new, gift-friendly work including cards, ornaments, ceramics, turned wood, jewelry paintings, art prints, glass and more. Get one of a kind gifts and support Lincoln artists by shopping locally this holiday season.
What: https://gallerynine.wordpress.com




Where: Tugboat Gallery, 116 N. 14th St.
When: 7 PM - 10 PM
Who: Tugboat Gallery proudly presents "Celebrity chef mauled by flock of poorly drawn birds, crunchy doodles . . . shut up and let me draw." featuring George Sisson, Lara McCoy-Rolofson and John McKie, opening First Friday December 4th with DJ ol' moanin' - closing on December 26th. The familiar will be transformed into a giant spicy meatball.
What: http://www.tugboatgallery.com/


Where: Metro Gallery, 1316 'N' Street
When: 3 PM - 5:30 PM
Who: The works of Jaser Gonzolez. Exotica for the Holidays will be in the featured gallery. Acrylic paintings, wood burned images and more. Beverages and snacks will be available to our guests and patrons.
What: https://www.facebook.com/MetroGalleryNebraska


Where: Doc's Place, 140 N. 8th St.
When: 6 PM - 9 PM
Who: "Roots of Perception," an exhibition featuring work by local UNL printmaking student, Keith Buswell. He explains, "Beneath the surface of our failures, dreams, fixations and experiences there are perceived notions of roots; pathways and corridors that lead to our perception. As I have started anew in my own life, planting my life in new dirt, many of the mistakes, remorse and subsequent renewal of my faith in world. It branches out onto the paper despite my futile attempts to define it's very form." An opening reception will be held during December's First Friday Art Walk on December 4 from 6-9 p.m. and the work will stay up through the end of the month.
What: https://www.facebook.com/DocsPlaceBar


Where: Burkholder Project, 719 P St.
When: 5:30pm - 8:00pm
Who: MAIN, OUTBACK, AND SKYLIGHT GALLERIES: 'Holiday Mosaic' Group Show – Work in varied mediums by over 50 Burkholder Project Artists. SPECIAL EXHIBIT: Ceramics by Leroy von Glan
What: http://www.burkholderproject.com/


Where: Great Plains Art Museum, 1155 Q St.
When: 5 PM - 7 PM
Who: The Museum will offer a quilt-pattern art activity, dress-up-your-hot-chocolate bar, and holiday treats. Help us celebrate the return of our First Fridays after being closed for flood repairs! Now on display are Gwen Westerman's "We Are Star People" exhibition on the lower level and some choice pieces from the collection on the main level. First Friday is a great time to pick up holiday gifts from the Museum's store, including a new ecotourism poster. Admission and activities are always free.
What: http://www.unl.edu/plains/gallery/gallery.shtml




Where: Workspace Gallery, Sawmill Building | 440 N. 8th Street
When: 6 PM - 8 PM
Who: Clare Bensen - "The Shepherd's Daughter"
My work is deeply rooted in my family history. After the death of my mother when I was eleven years old, I became increasingly curious about notions of family, memory, and mortality.
I grew up with my father: an avid hunter, archery champion, and former hunting guide in the Alaskan wilderness. Before my father, my grandmother was a hunter and before that my great-grandmother, and long before that the stars made up constellations that told stories of the greatest hunts. In The Shepherd's Daughter, the nuances of hunting and the rugged northern Michigan landscape of my childhood are woven with narratives of memory, mythology, time and impermanence. - Clare Benson
ABOUT THE ARTIST: Clare Benson is a photographer and interdisciplinary artist whose work centers around themes of family history and memory as she weaves in elements of nature, science, and mythology. The trajectory of her creative practice has been highly influenced by her experience growing up in northern Michigan, as well as her time living and working abroad in places like Slovakia and northern Sweden. Most recently, she spent the past year working with scientists at the Swedish Institute of Space Physics, under the auspices of a Fulbright Fellowship. She is the recipient of numerous other awards and honors including the Joyce Elaine Grant Solo Show Award, PDN Emerging Photographer, and First Place in the 2014 LensCulture Portrait Awards. Benson received her MFA from University of Arizona and her BFA from Central Michigan University. She is currently working between Michigan and New York City.
What: https://sites.google.com/site/workspacegallery/




Where: Rocketship Gallery, 941 O St., Suite 100
When: 6 PM - 9 PM
Who: presents new artists, painter Mike Williams and wood turner Mark Entzminer; new artwork by Don Farrall and new pottery items by Stuart Gair.
What: http://www.rocketshipgallery.com/


Where: Noyes Art Gallery, 119 S. 9th St.
When: 6:00 PM - 9:00 PM
Who: works in variety of mediums by gallery artists, opens Friday, through October. Reception -- Artist chair - Janna Harsch
What: http://www.noyesartgallery.com/


Where: Kiechel Fine Art, 1208 O St.
When: 6pm - 9pm
Who: Spotlighting Midwest Contemporary Artists
What: www.kiechelart.com


Where: Crescent Moon Coffee, 140 N. 8th St.
When: 7 PM - 10 PM
Who: Art by Bea Huff and music with Miles Mayer.
What: http://www.crescentmooncoffee.com/


Where: The Hot Mess, 408 S. 11th St.
When: 6pm - 8pm
Who: FESTIVUS - "Glam Edition" - First Friday Holiday Partay. After 5 years of many versions of "The Festivus Show" it's time to Glam things up.
Now in its 6th year it was decided to move "The Festivus Show" into a new space, The Hot Mess, to accommodate the fabulously awkward exhibition of Lincolnites and guests. DJ $pencelove will be providing the glam jams for you to shake your glittered tailfeather to. Come decked out in your best Holiday Glam attire!
Remember - It's a Day for the Rest of Us
What: https://www.facebook.com/getmessy




Where: Sourpuss Studios, 903 O St, Lincoln, Nebraska 68508
When: 7 PM - 10 PM
Who:
What: http://www.sourpussstudio.com/


Where: Jake's, 101 N. 14th St.
When: 7 PM - 2 AM
Who: tba
What: http://jakescigars.com/


Where: The Railyard, Canopy Street.
When: 5 PM - 8 PM
Who: No show this month
What: http://www.railyardLNK.com/


Where: Ploughshare Brewing Co. 1630 P St.
When: 7:30 PM - 9:30 PM
Who: No show this month
What: http://ploughsharebrewing.com/


Where: Gallery 105, 105 8th St.
When: 7 PM - 10 PM
Who: No show this month
What: http://www.bin105.com/


Where: Indigo Bridge Books, 701 P St.
When: 7 PM - 9 PM
Who: Curated by Artists on the Edge.
What: http://www.indigobridgebooks.com/


Where: Licorice International, 803 Q Street
When: 6 PM - 7:30 PM
Who: No Show this month
What: http://www.licoriceinternational.com/


Where: Eisentrager-Howard Gallery, First floor of Richards Hall, Stadium Drive and T streets on UNL City Campus
When: 5 PM - 7 PM
Who:
What: http://arts.unl.edu/


Printed maps available at all the galleries.
Make sure you check out photos and extra info from the two excellent facebook pages.
https://www.facebook.com/FirstFridaysLincoln
https://www.facebook.com/LincolnFirstFriday


Also there is a Twitter Account for First Friday. Check it out: https://twitter.com/LNKFirstFriday or the hashtag #LNKFF


As always, if we've missed any listings feel free to send us a quick email at smunson@downtownlincoln.org and we'll get your listing added as soon as possible.