This year's all Lincoln music showcase is bigger than ever!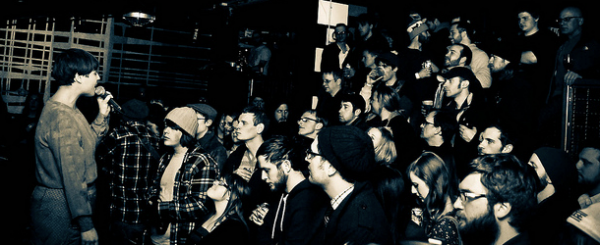 Photo by Shannon Claine
From February 10th through the 13th, 75 bands will play at 4 venues in Downtown Lincoln for only $20. That's almost 15 more bands than last year! There will also be Day Pass and Venue pass options at The Legendary Zoo Bar, The Bourbon Theatre, Duffy's Tavern, and the newly added Bodega's Alley. All Access Tickets on sale Jan 25th.
Working to cover a multitude of genres, Lincoln Exposed has only one prerequisite. The music has to be the form of a band. Genres like Jazz, Indie Rock, Soul, Metal, Electronic, and even some Blues and Classic Rock are covered. The rookies (Academy of Rock) will be there, as well as the elder statesmen (Dr. John Walker). Originally founded by Zoo Bar owner Pete Waters, the festival has blossomed from 1 venue to now 4 and is a big help driving business for the 14th and O corridor in the winter months. After a change in ownership and the addition of a state of the art sound and light system, Bodega's Alley has joined the festivities giving Exposed even more room to feature all of the great music Lincoln has to offer.
SCHEDULE:
Wednesday - 10th
Duffy's Tavern
9:20-10 - Toasted Ponies
10:20-11 - Sputnik Kaputnik
11:20-12 - The Mezcal Brothers
12:20-1 - Producers of the Word
Zoo Bar
7-7:40 - Swing Fever
8-8:40 The Cadillac Men
9-9:40 - Mike Semrad and the Likes
10-10:40 - Sun Day
11-11:40 - The Inbetweens
12-12:40 - Better Friend
Bourbon Theatre
9:40-10:20 - Sas and The Final Arrangement
10:40-11:20 - King Thumper
11:40-12:20 - The Magnetic Souls
12:40-1:20 - Dylan Bloom
Bodegas Alley
9:20-10 - Domestica
10:20-11 - Jack Hotel
11:20-12 - Mesonjixx
12:20-1 - Red Cities

Photo by Shannon Claire
Thursday - 11th
Duffy's Tavern
8:40-9:20 - Verse and the Vices
9:40-10:20 - Ghost Town Radio
10:40-11:20 - blet
11:40-12:20 - Laughing Falcon
12:40-1:20 - This Machine Kills Vibes
Zoo Bar
6:00-6:40 - FCC Bros
7:00-7:40 - Ozark Hutch
8-8:40 - The Wildwoods
9-9:40 - Ambulanters
10-10:40 - Stonebelly
11-11:40 - The Allendales
12-12:40 - MrMc$
The Bourbon Theatre
8:20-9 - The Dancing Dead
9:20-10 - Cassandra and the Told Ya Sos
10:20-11 - Dr John Walker
11:20-12 - Magna Melodier
12:20-1 - Better Friend
Bodega's Alley
9:40-10:20 - Jazzocracy
10:40-11:20 - Bud Heavy and the High Lifes
11:40-12:20 - Emmett Bower Band
12:40-1:20 - Powerful Science

Photo by Shannon Claire
Friday - 12th
Duffy's Tavern
8:40-9:20 - Meadow Rave
9:40-10:20 - Lucas Kellison
10:40-11:20 - TJ Saddler
11:40-12:20 - A Ferocious Jungle Cat
12:40-1:20 - Pure Brown
Zoo Bar
6-6:40 - The Dust Jackets
7-7:40 - Hana Zara
8-8:40 - Gabe w/ Pants
9-9:40 - Orion Walsh & The Rambling Hearts
10-10:40 - Emily Bass
11-11:40 - Walk By Sea
12-12:40 - Bogusman
Bourbon Theatre
8:20-9 - Yesh
9:20-10 - Dirty Talker
10:20-11 - Giant's Arrow
11:20-12 - Low Horse
12:20-1 - Bloodrail
Bodega's Alley
9:40-10:20 - Commander Kilroy
10:40-11:20 - Whiskey Drinkers Union
11:40-12:20 - Sunleaf
12:40-1:20 - Thirst Things First

Photo by Shannon Claire
Saturday - 13th
Duffy's Tavern
6-7:20 Academy of Rock
7:40-8:20 - Down in Circles
8:40-9:20 - Tie These Hands
9:40-10:20 - Root Marm Chicken Farm Jug Band
10:40-11:20 - Life Is Cool
11:40-12:20 - Warbonnet
12:40-1:20 - Sweats
Zoo Bar
8-8:40 - On The Rocks
9-9:40 - Powers
10-10:40 - SAINT CHRISTOPHER
11-11:40 - Evan Bartels and the Stoney Lonesomes
12-12:40 The Morbs
Bourbon Theatre
N/A - Turnpike Troubadours
Bodega's Alley
8:20-9 - Wendy & the Boys
9:20-10 - The Hangin Cowboys
10:20-11 - Gerardo Meza Band
11:20-12 - Once a Pawn
12:20-1 - Mad Dog and the 20/20s