Downtown 101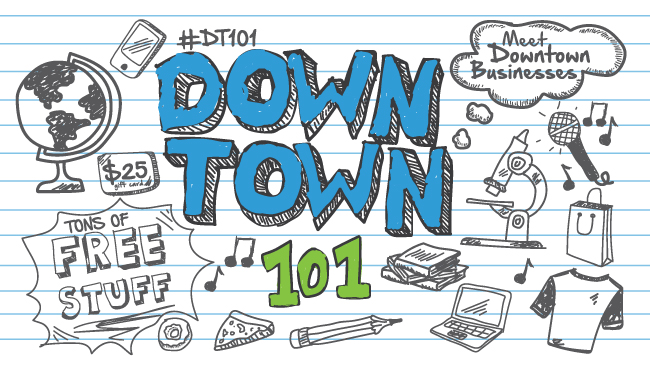 Downtown 101: Student Welcome Night
Downtown 101 is a free concert and introduction to the many businesses downtown. Restaurants, retail, arts, housing, entertainment and more will all be in one place, on one night: Friday August 26th at Tower Square (13th and P). The event is to encourage students to cross R Street into the heart of downtown and explore all that it has to offer.
---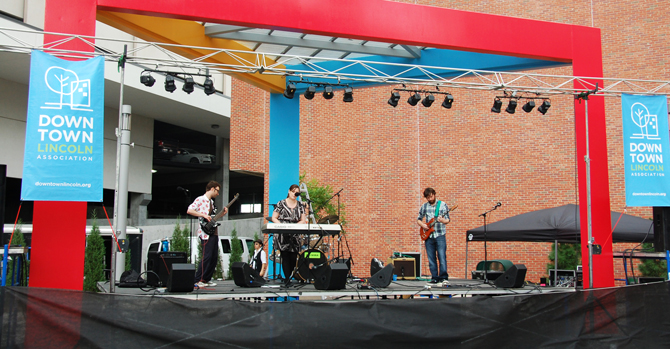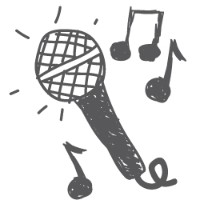 A DJ, a worm and a cat walk onto a stage.
No it's not the start of a joke, it's this year's line-up! Music for the Downtown 101 concert will begin at 5 PM at Tower Square. DJ Nick the Quick will kick things off with a mix of rock and pop favorites, followed by two unique local bands Glo Worm and A Ferocious Jungle Cat. 
5:00-6:00 PM | Nick the Quick
6:00-7:00 PM | Glo Worm
7:00-8:00 PM | Ferocious Jungle Cat
---

Besides a free night of music, each booth at Downtown 101 will be giving away free stuff! There will be free food, coupons, movie tickets, gift cards and plenty of branded swag.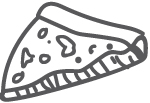 Stop by anytime between 5 and 8 PM to get your Downtown Lincoln goodie bag and learn about specials going on this school year straight from the business owners themselves. Booths will have information specific to their business, play some fun interactive games and get tons of free stuff!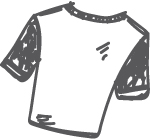 This Year's Vendors so Far!
GNC | Ten Thousand Villages | Lotus House of Yoga | High Vibe Cafe | Sheldon Museum Store | Smart Rooms | Francie & Finch Bookshop | Onyx Piercing Studio | DealAnyDay | Jimmy Johns | Marcus Grand Cinema | Fly Fitness | Downtown YMCA | Vega | BurgerFi | The Railyard | Leaf and Hops | Arby's | Parkhaus | Gomez Art Supply | Tsuru | Threads Footloose & Fancy | Lincoln Running Co. | Black Market Clothing Exchange | Wells Fargo | College of Hair Design | The Coffee House | Dempsey's Burger Pub | Tokens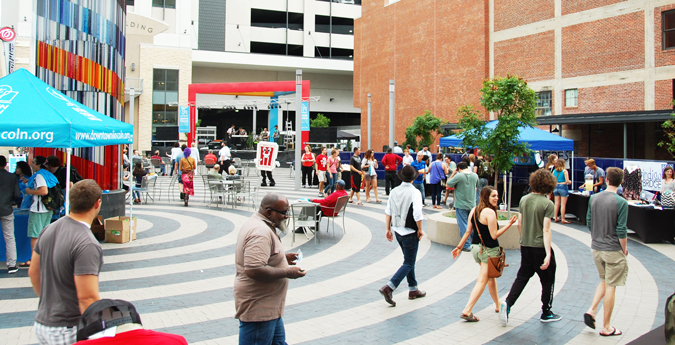 ---

How would you like to get paid to do your homework?
Officially enroll in Downtown 101 from August 26th-September 2th with the downtown "Shop" Quiz! To get even more familiar with downtown shops, Downtown Lincoln has put together some "assignments" for you. Assignments are fun tasks to complete at each retail shop downtown.
Earn $1 on your Downtown Lincoln Gift Card for each assignment you complete! Earn from $5 to $50!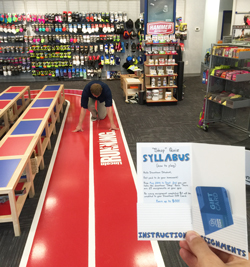 In this case sharing your homework is encouraged! To successfully complete each challenge all you have to do is post a picture of you with your homework assignment to either Facebook, Twitter or Instagram! Credit will be given for using #Downtown101 and/or tagging @DowntownLincoln in your posts.
Extra Credit: If you complete all 26 assignments on your quiz Downtown Lincoln will load an extra $24 on your card for a total of $50!
All assignments can be found in the "Shop" Quiz packet handed out at the Downtown 101 event on August 26th or picked up at Downtown Lincoln's Office (206 S. 13th St. Suite 101) through September 2nd. 
Turn your completed quiz in at the Downtown Lincoln office before 4:30 PM on Friday September 2nd to receive your gift card.