Goal 2
Goal 2:
Enhance Corridor Roadways for Motorized Transit

P Street is a main thoroughfare for the Downtown Lincoln workforce. While improving conditions for pedestrians and bicyclists is a priority, it has been equally important throughout the design process to allow P Street traffic to maintain its current level of service and improve the overall conditions for motorized transit.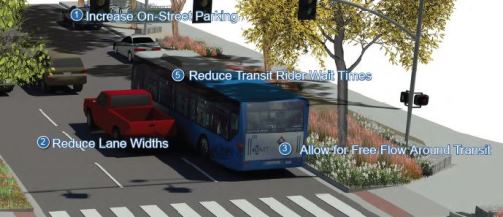 STRATEGY 1: Increase number of on-street parking spaces
On-street parking is a key factor in promoting businesses in cities. It allows multiple users to reach multiple destinations, utilizes less land per space than off-street parking and provides easy access to businesses located on city streets. Every on-street parking space can have as many as 30 different vehicles a day, equaling up to ten times the effectiveness of parking decks. In some cases, on-street parking can generate up to $150,000 per year in direct retail sales. With driver convenience and economic value in mind, the plan is to increase the number of regulated on-street parking by as much as possible.
STRATEGY 2: Reduce Lane Widths 
A common perception is that wider motor vehicle lane widths provide more safety or capacity. Research has shown, however, that reducing lane width on surface streets in urban areas can be expected to have a marginal impact on motor vehicle flow rates, and that there is no indication that such lane reductions will lead to any increase in crash frequency or severity. Travel lanes on P Street currently have widths as large as 15.5'. The U.S. Department of Transportation recommends lane widths of 10-12' for urban arterial streets. The design recommends a width of 11' for P Street travel lanes.
STRATEGY 3: Allow for free-flow of traffic around shuttle stops. 
Within the P Street Corridor, there are a number of shuttle stops located on the southwest and northeast corners of various intersections. These bus stops impede traffic flowing behind the stopped bus. By moving bus stops to the far corners of intersections, right-turning traffic is allowed to continue to flow, removing the problem of long queues waiting to turn.
STRATEGY 4: Reduce conflicts between drivers and delivery and loading trucks 
Current conditions in the Corridor do not allow room for delivery and loading trucks to park on P Street without disturbing the flow of traffic or blocking parked cars. Additionally, not all of the blocks which border P Street are provided with alleys and some of those with alleys end in right angle bends making them difficult for semi-trucks to maneuver. For this reason, discussions with the Downtown Lincoln Association have been conducted to recommend that the existing pattern of stopping in P Street to make deliveries be allowed to continue, however, hours of delivery should be carefully managed so that loading and unloading does not occur during peak traffic hours.
STRATEGY 5: Reduce transit rider wait time
The current routes for Lincoln buses that run through the Corridor leave transit riders with up to a 24minute wait time. Suggested revisions to the routing system in addition to new recommended locations for bus stops will reduce wait times by 14 minutes (a 10 minute wait), providing bus riders with a faster, more efficient transit experience.
STRATEGY 6: Maintain 25mph speed limit 
The current posted speed limit on P Street is 25mph. Maintaining a 25mph speed limit in the Corridor will allow drivers to continue travelling at a comfortable and safe driving speed. By Reducing the throat size at intersections from an average of 54' to 35' the design will curve the practiced speed limit.
BENEFITS:
> Traffic flow was a major concern voiced by community members during public meetings. This master plan will improve conditions for pedestrians, bicyclists, and motor vehicle drivers and maintain the current level of service for automobiles travelling on P Street.
> To attract shoppers, diners and investors to P Street, it is important that the Corridor remain a well travelled and visible through street for travelers of Downtown Lincoln. By maintaining the current level of service, the street framework will continue to encourage drivers to travel the Corridor, exposing them to the new developments and opportunities available.
> Streetscape design for the P Street Corridor includes a buffer between moving vehicles and the pedestrian zone, supporting real and perceived safety for both drivers and pedestrians. Buffers can also act as a traffic calming device, slowing vehicles and potentially reducing the number and severity of accidents.