Goal 4
Goal 4:
Encourage Local Economic Growth and Investment
The Downtown Lincoln Master Plan envisions the P Street District to be the primary retail district downtown and the central hub of the city. To create an energetic street, design improvements should impact district value for both consumers and investors. Creating a unique retail district will not only draw shoppers to the District, but will also inspire investors to take part in the growing economy of Downtown Lincoln. This master plan employs streetscape improvements, retail recommendations and storefront and signage guidelines that will encourage local economic growth and investment in the District and Downtown Lincoln.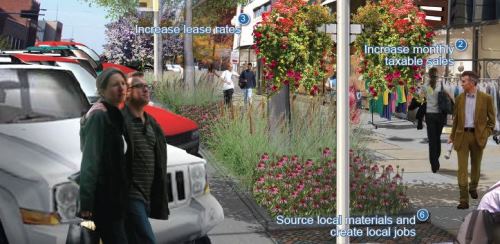 STRATEGY 1: Maintain Healthy Vacancy Rates and Attract Investors 
One way to assess the health of the existing retail for a given area is to evaluate the vacancy in retail space. High vacancy rates can be indicators for an oversupply of retail space relative to the demand generated by the market and alternatively low vacancy rates can indicate the support for additional retail space.
Downtown Lincoln currently has a 5.5% vacancy rate for retail space. Studies have found that landscape amenities have the highest correlation with occupancy rates, higher even than direct access to arterial routes. New streetscape amenities in addition to Downtown Lincoln's healthy vacancy rate will put the P Street District in a great position to attract investors to their healthy market.
STRATEGY 2: Increase monthly taxable sales 
A good indicator of retail profits in Downtown Lincoln is the amount received in taxable sales. In January 2012, the net taxable sales for Downtown Lincoln were $32,958.084. Shoppers have reported a willingness to spend 12% more in pedestrian-friendly, tree-lined commercial areas. This could increase the amount of taxable sales by approximately $4,000 per month ($48,000 per year) in Downtown Lincoln.
STRATEGY 3: Increase lease rates 
The typical rental rate for commercial/retail space in Downtown Lincoln is $12.00-$15.00 per square foot. Previous studies have found a 7% average increase in rental rates for commercial properties with quality streetscape. This means for a 500 sq/ft property, monthly rent would increase by $420.00. In a larger space, a 3,500 sq/ft property would increase its leasing value by $2,940.00 per month or $35,280.00 per year. In addition to the improvements included in this Master Plan, the ongoing projects at Civic Plaza, the Haymarket, and Antelope Valley could increase values to even further improve upon this number in the future.
STRATEGY 4: Support Unique Locally-owned Businesses 
Locally owned businesses not only help to link metro-Lincoln residents to the downtown neighborhood and build a sense of community, but local businesses recycle a much larger portion of their revenue back into the local economy. 58% of the businesses with streetfronts within the study area are locally-owned businesses.
STRATEGY 5: Increase Visibility of Local Art
Lincoln has a number of great local artists. By displaying their work throughout the P Street District, these artists enhance the local quality of the environment and help give P Street a unique identity that will attract shoppers and investors.
STRATEGY 6: Source local materials and create local jobs.
Local companies and materials not only impact the environment, but they can impact local economies by providing jobs and wages for Nebraskans. 100% of materials will be sourced within 500 miles of Lincoln. economies by providing jobs and wages for Nebraskans.
BENEFITS
> Increased retail investment will have positive impacts on the economies of District businesses, but will also impact the City. Property tax is one of the most important revenue streams for cities. By creating a positive climate for increased property values, the tax rolls will benefit in return.
>  Using local materials and companies in the construction process will support the local economy while also reducing the amount of energy and carbon expended to transport materials.
>  In addition to providing more opportunities to shop and enjoy the P Street District, an increase in retail sales and investment within the District would also provide a source of new jobs for Lincoln residents.
>  Local artists will have opportunity to contribute to the aesthetic quality of P Street through possible murals, building super-graphics, street banners, and alley interventions. . Involving local artists in the project helps build support for investment efforts in the District and can help to create a place that is by and about Lincoln.