Shop Small, Sweat Big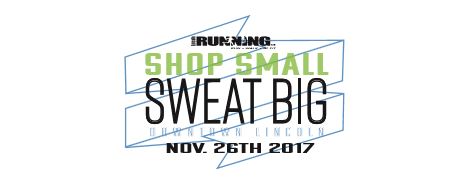 Saturday, November 25th 2017
This year for Small Business Saturday, get your workout in and sweat big before you shop small!
---
Lincoln Running Co. will have a run starting at their shop, 1213 Q St., at 7 AM.
Fly Fitness, Lotus House of Yoga and YMCA will be offering FREE classes! To ensure room for everyone, please call ahead to reserve your spot.
Fly Fitness will do Flyfire- high Intensity bootcamp style (interval training) class from 8 to 8:30 AM
YMCA will do a fusion style class 7-7:30 a.m. Country Heat and 7:30-8:00 a.m. Barre Express. 
Country Heat: A high-energy, low-impact, country dance-inspired fitness program that fires up the fun.
Barre Express: Fuses elements from ballet-based Barre work with strength training and core work.
Lotus House of Yoga will be hosting: Hot Slow Flow with Sue 7:30-8:15 a.m. at downtown Lotus
YMCA will also be offering free showers for all participants.
The Coffee House will be serving pancakes and coffee at Tower Square from 8 - 9 AM
---
Shopping Discounts:
Lincoln Running Company: buy one item- get the 2nd item (same price or less) for HALF PRICE!!