Tower Jazz

Thanks to all who attended Tower Jazz 2017
Tower Jazz is a free summer music series that celebrates jazz music at Tower Square (13th and P).  While you're waiting for next year's line-up, check out some of 2017's performances below.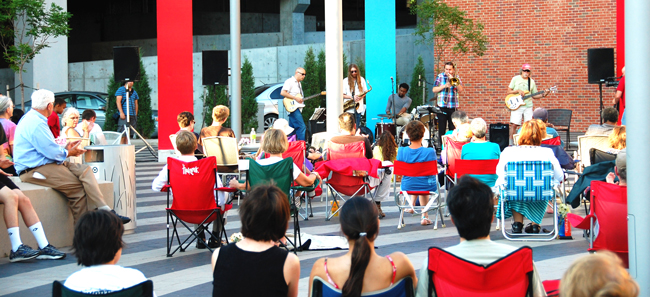 ---
Musicians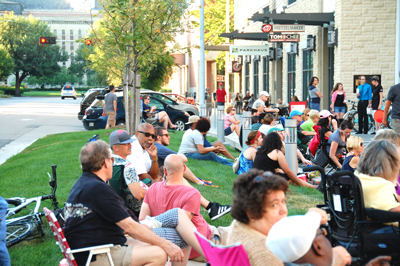 July 11th - Darryl White 
An associate professor of trumpet at the Glenn Korff School of Music. White's performance experiences include a wide range of idioms. He has appeared as guest soloist with the Omaha Symphony, Lincoln Symphony Orchestra, Mesa Chamber Orchestra, Grand Junction Symphony, Lake Forest Chamber Orchestra, Roaring Fork Jazz Festival, University of Nebraska Faculty Brass Quintet, the University Faculty Jazz Quartet and many other solo appearances and guest clinicians with college jazz bands and orchestras across the country. At this year's Tower Jazz, White will be accompanied by jazz singer Angelia Onauha. 
A native of Warren, Ohio, White has been playing trumpet since the age of 9. Before his current position at the University of Nebraska, White's first college teaching experience was at Mesa State College in Grand Junction, Colo., in 1993 where he taught for two years. White holds a Bachelor of Music degree from Youngstown State University, a Master of Music degree from Northwestern University and a Doctor of Musical Arts from the University of Colorado. While in Denver, he was a member of the Aries Brass Quintet-in residence at University of Denver-Lamont School of Music and the Denver Brass. At Lamont he was Instructor of Trumpet and also participated with the Faculty Jazz Quintet. 
---
July 18th - Steve Raybine
Steve Raybine is a nationally known virtuoso vibraphonist. He has earned a reputation for his exciting live performances and melodically-appealing and rhythmically-compelling original contemporary jazz compositions. 
Raybine's unique and refreshing musical sound and style is captivating jazz audiences throughout the United States and Europe. Labeling Raybine as a jazz-only artist would be a mistake. He is equally talented at Funk, R&B, Pop and Latin sounds. You'll only have to listen to his music once to understand why the Independent Artist Registry selected Raybine over thousands of other artists. 
As the co-founder, co-musical director, and performer/composer of the critically-acclaimed progressive jazz ensemble AURACLE, he toured the United States and Europe and recorded two albums (Glider and City Slickers) on Chrysalis Records. During his eight-year tenure with Auracle. 
Raybine performed at the Montreux Jazz Festival in Montreux, Switzerland; Frankfurt Jazz Festival in Frankfurt, Germany; the Sopot Jazz Festival in Sopot, Poland and numerous jazz venues in Los Angeles. Raybine's freelance performance credits include Ed Shaughnessy, Dizzy Gillespie, Rick Braun, Ndugu Chancler, Michael Feinstein, Jack Jones, Roger Williams, Karrin Allyson, Dave Brubeck and as an opening act for Stanley Jordan. 
Raybine is a Broadcast Music Incorporated (BMI) composer, an artist and clinician with Ludwig/Musser, endorses Mike Balter Mallets, and is the owner of SAR
Music, LLC and BAD KAT Records, LLC. Raybine's music has been featured on over 150 national and international radio stations. In addition, his music has been showcased on the nations #1 smooth jazz online radio station, www.smoothjazz.com, and XM satellite radio. 
His first CD release was entitled "Steve Raybine: Balance Act." His second CD, "Bad Kat Karma," was released in late June, 2005, on BAD KAT Records, LLC. It was listed as one of the top 50 jazz CD's in the U.K. for 2005 on the radio show, Fusion Flavors. 
His new critically-acclaimed CD release is entitled "In The Driver's Seat," also on BAD KAT Records. Steve and his band have played jazz festivals and venues throughout the United States. For further information about Raybine's music and performing dates, please visit his website at www.steveraybine.com.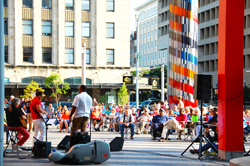 July 25th - Camille Metoyer Moten
A versatile singer, performing in styles ranging from opera to musical theater, jazz and gospel, Camille has clearly made a lasting mark on Omaha's musical scene.  She has garnered prestigious awards for portrayals of Eva Peron in Evita and Fanny Brice in Funny Girl.  In addition, she has performed at all of the major theaters of the city as well as with Opera Omaha.  She has toured regionally and her musical travels have carried her to Barcelona, Spain.  Browse the site to read more about her many accomplishments and the background behind what brought her to where she is today. There are few in the area with the experience and savvy of this vocalist.
---
Aug. 1 - Midnight Mechanism
Midnight Mechanism is a jazz band formed by classmates and roommates who "burned the midnight oil" studying organic chemistry mechanisms, the stepwise process by which organic compounds are synthesized or decomposed. Having survived organic chemistry at the University of Nebraska-Lincoln, they no longer have the blues, but continue to draw upon the ordeal as inspiration for playing them. A quartet comprising Nicholas Flaxbeard (piano), Caleb Drey (bass guitar), Kyle Wengel (cello), and David Pratt (violin), Midnight Mechanism may be the only jazz band in America whose personnel operate a data science company under the same name. Having played Lincoln venues including Cottonwood Cafe, Francie and Finch Bookshop, Midnight Mechanism looks forward to becoming part of the Tower Jazz Series on August 1, 2017. 
---
Aug. 8 - Ed Love Trio
Nebraska Jazz Orchestra Music Director Ed Love was born and raised in Omaha and first developed an interest in jazz at Omaha Central High School. He is a graduate of the University of Nebraska-Lincoln, where he received his Bachelor of Music Education and Master of Music degrees. In 1972, he was selected for the All-Star Band at the American College Jazz Festival in Washington, D.C.. 
Ed taught junior high school band and jazz band in Seward, Nebraska for six years, then was hired by the Lincoln Catholic Schools, where he taught 5th through 8th graders in four elementary schools. Ed currently teaches instrumental music for Lincoln Public Schools. 
He joined the Neoclassic Jazz Orchestra (later renamed the Nebraska Jazz Orchestra) as leader of the saxophone section in 1978, just prior to the ensemble's tour of England and Scotland. Ed was named Music Director of the Nebraska Jazz Orchestra in 1979. 
Ed brings a wealth of musical experience to the Nebraska Jazz Orchestra (NJO), having performed with numerous local and regional bands and orchestras, including the Lincoln and Omaha Symphonies, the Ak-Sar-Ben Orchestra, Opera-Omaha, the Chuck Penington Orchestra, and the Eddy Haddad Orchestra. He has performed with many jazz greats, including Clark Terry, Doc Severinsen, Don Menza and Henry Mancini. 
He has also given jazz clinics and judged jazz band competitions throughout Nebraska, including Lincoln, Omaha, Bellevue, Waverly, Alma, Ainsworth, Ogallala and Wayne. Ed has been a guest soloist with the University of Nebraska at Omaha Jazz Ensemble, Nebraska Wesleyan Jazz Ensemble, Hastings High School Jazz Band, and the Wayne State College Jazz Band.
---
A Big Thanks to This Year's Sponsors