Tower Jazz

Coming This July
Tower Jazz is a free summer music series that celebrates jazz music at Tower Square (13th and P). This year's outdoor concerts will be held on Tuesday evenings from 7 PM to 9 PM and will focus on established as well as up and coming local talent.
See a video of last year's series.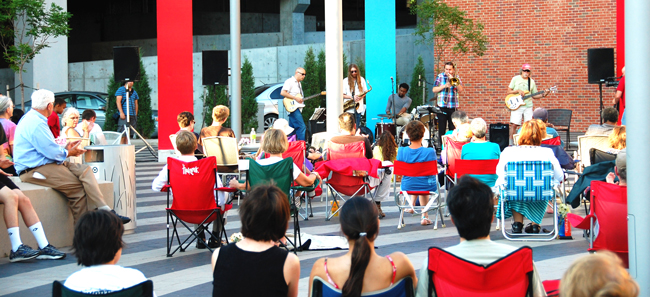 ---
Musicians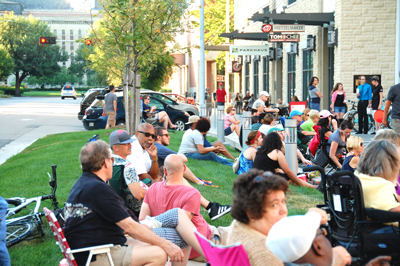 July 5th - Swing Fever
Swing Fever features Jerry Renaud on guitar and vocals, Eric Toombs on drums and percussion, and Gene Davis on bass and vocals, all from Lincoln, Nebraska. Also, Pance Zaev, from Macedonia, plays the clarinet and saxophone for the band and is currently studying at the University of Nebraska-Lincoln. Swing Fever uses their different backgrounds of classical and Euro-influenced music to create their unique sound.  
July 12th - Nicaulis Alliey 
Nicaulis Alliey has performed at the UNESCO Hall and Grande Salle de la Sorbonne (France); Universidad Nacional (Colombia) and other prestigious halls in Venezuela, France, Colombia, and the Caribbean. As soloist, Nicaulis has performed with the Orquesta Filarmónica Nacional de Venezuela, Orquesta Sinfónica Municipal de Caracas, Orquesta Sinfónica Gran Mariscal de Ayacucho and Orquesta Sinfónica de Maracaibo, Orquesta Sinfonica de Lara, Orquesta Sinfonica de Merida, Orquesta Sinfonica "Simon Bolivar" del Tachira, and with conductors Helmut Rilling, Eduardo Rahn, José Luís Castillo, Arnaud Pairier, Eduardo Marturet and Rodolfo Saglimbeni. Nicaulis has performed in recitals with Armand Simon, Alessio Bax, Monique Duphil, Alain Marion, Alan Weiss, Marlon Titre, Luis Quintero, and in popular productions with some of the most prominent Venezuelan musicians.
She received First Prize of the Ville de París –Unanimous- in 1994, and First Prize at the Latin American Flute Competition (Caracas, 2000). She also has been Flute Solo at the Orchestre International de Paris (1994-1995), Assistant Flute at the Orquesta Sinfónica de Lara(1996-1998), Flute Solo at the Orquesta Sinfónica de Maracaibo (1998-2010). As flutist of La Cuadra Venezolana (since 1998), she has recorded on their two CDs.
July 19th - O Street Brass Band​
Formed in the style of traditional New Orleans street bands, O Street Brass is a ten-member ensemble based in Lincoln, NE.Performing a blend of original compositions, riot jazz, funk, hip-hop, and New Orleans standards, the group continues to expand their high-energy live shows to audiences across Nebraska and the Midwest.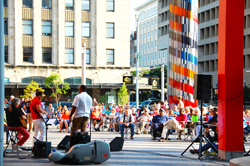 July 26th - Ed Archibald featuring Darryl White
Edward Archibald writes, produces, arranges, and performs all his own music as well as covers many of the great artists past and present.
He has performed on the same stage as Marcus Johnson, Everett Harp, and Nelson Rangell and has also had the honor to be the opening act for the legendary Al Green. He's appeared on the local television talent show "Jazz One" and for the last several years he has played at the popular Omaha Riverfront Jazz & Blues Festival.
If you enjoy the musical stylings of Grover Washington, Kirk Whalum, and Boney James, you will no doubt enjoy Edward's sophisticated take on modern featuring Darryl White. 
Dr. Darryl White-is associate professor of trumpet at the Glenn Korff School of Music. White's performance experiences include a wide range of idioms. He has appeared as guest soloist with the Omaha Symphony, Lincoln Symphony Orchestra, Mesa Chamber Orchestra, Grand Junction Symphony, Lake Forest Chamber Orchestra, Roaring Fork Jazz Festival, University of Nebraska Faculty Brass Quintet, the University Faculty Jazz Quartet and many other solo appearances and guest clinicians with college jazz bands and orchestras across the country.
A native of Warren, Ohio, White has been playing trumpet since the age of 9. Before his current position at the University of Nebraska, White's first college teaching experience was at Mesa State College in Grand Junction, Colo., in 1993 where he taught for two years. White holds a Bachelor of Music degree from Youngstown State University, a Master of Music degree from Northwestern University and a Doctor of Musical Arts from the University of Colorado.
Aug 2nd - CJ Mills & Guitars and Saxes
CJ Mills has made her mark on the local music scene with her witty lyrics and powerful voice. The Omaha native's diverse sound has garnered the attention of many fans. With the help of her guitar, CJ has found her comfort zone in soul and r&b while also incorporating jazz and pop elements. CJ's current project, entitled "Quiet", can be downloaded via on itunes, Spotify, google play etc. Having picked up steam, it was announced earlier this spring that CJ and her band would be playing in the Maha Music Festival August 20th in Omaha, NE. Her band will also be hitting the road as one of the participants of the Hear Nebraska Good Living Tour.
Aug 9th - Bill Wimmer Trio
Bill Wimmer- Tenor, Alto and Sopranao saxophonist has been a part of the Lincoln-Omaha jazz scene for many years. He has played at Howard Street Tavern in Omaha, McGuffey's and the Zoo Bar. He has also played at the Wichita and Vail Jazz Festivals, and with Bobby Broom, Tony Monaco, Dave Stryker, Norman Hedman, Victor Lewis and many others. Bill's Project Omaha CD came out in 2008, and he just finished recording a new Project Omaha with Bryan McCune, George Cables, Victor Lewis and today's fine bassist, Mark Luebbe.
Randall Snyder- Piano: Randall was Bill's first jazz instructor at the University of Nebraska, and a great composer, arranger and musician. Randy has played Bass and sometimes paino with many local, regional and national acts aroun Lincoln for many years. He was Jay Mcshane and Claude Williams' favorite for many years. Dr. Snyder's is a fine modern composure who taught at the University for many years, and local jazz players still struggle with his big band charts inspired by different dinosaurs.
Mark Luebbe-as mentioned earlier, plays acoustic bass and is an Omaha institution. He has been active on the local jazz scene since the 1970's, when we first met. Mark has played with many people, going back to his LA roots befroe he moved here. He has the ability to work seamlessly in so many Jazz and other music he has lways been in demand. Getting to work with him has always been about the msuic, give and take, support and interation that makes a rhythm section tasteful and exciting.
John Scofield plays drums, but John has always been a lot more than just a drummer. A great teacher at Lincoln Public Schools, John is a very fine drummer/percussionist, and he was also the originator of PanGea, a high school all-star steel drum band that has played around Lincoln for many eyars. John was already playing with Lincoln legend MacMcCune when I met him, and he started teachign me back then too. I can't begin to list all of the musicians, local and national musicians or the styles he plays. John plays with great taste and imagination.  
---
A Big Thanks to This Year's Sponsors