40 Years of Tico's

40 Years, Tico's Still Going Strong
On the corner of 17th and M sits Tico's, an establishment that hints at its Mexican roots with its red clay tile roof and adobe-style exterior. For 40 years, the locally owned and operated eatery has served generations of families with quality food and has encapsulated the notion that diligence and persistence breeds success. 
It was December of 1976 when Tico's first opened its doors, the same month that Fidel Castro became President of Cuba and Joe Namath played his last game as a New York Jet. A lot of things have stayed the same since the restaurant opened during the bicentennial, but there have been a few changes to their menus and to the place itself. Tico's has revamped their lunch and dinner menus a few times over the years as they continue to experiment with new dishes and other ways to improve their restaurant. They have found, however, that whenever they take some items off the menu, it's not uncommon to add themback later after longtime customers continue to request them. 
Following a fire in 2003, Tico's needed to remodel, and with the remodeling came the addition of Tico's loft. The loft is a second floor room that seats up to 64 and can be rented out for business meetings, rehearsal dinners or family gatherings. The room is equipped with a projector screen television, wireless internet and a buffet. (Buffet Menu)  Amidst all the traditional Mexican décor, the restaurant is filled with an aroma of zesty spices and sauces. The friendly wait-staff dressed in black and the dim lighting provides a rather courtly ambience to Tico's dining experience. You'd be hard pressed to find a Tico's regular that hasn't had a Ticoritto, an Enchilada Tort or some Chile Rellenos, some of the most popular menu items at the restaurant. Perhaps their most famous tradition is providing guests with their complimentary spiced chips and salsa. With gluten-free lunch and dinner menus, a vegetarian section and a kid's menu, the restaurant caters to a variety of people and ensures most everyone can find something that they'll like there.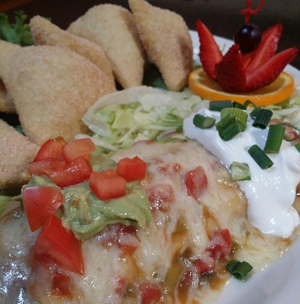 On Sundays from 11:00 am until 2:00 pm, Tico's also offers a brunch menu that includes items like their Royal Burrito (scrambled eggs, avocado, tomato and onion in a flour tortilla topped with green chile with pork, jack cheese, sour cream and guacamole) their California Omelet (three egg omelet filled with cheddar cheese, topped with chile con queso) and their Enchiladas de Huevos (scrambled egg enchiladas with cheese, topped with red chile and chile con queso). The Tex-Mex restaurant has become one of the more popular places downtown for happy hour, especially since implementing their Happy Hour menu.  From 4:00 pm to 7:00 pm each weekday, they have great deals on all lime margaritas and draft beer. Additional daily deals include Blue Mondays, Wild Tuesdays, Strawberry Wednesdays, Half-Price Thursdays and $2.50 pint Fridays. Entrée specials include Ticorrito Tuesdays, Relleno Wednesdays (each $2 off), Chile Relleno Fridays amongst other daily specials. 
There are only a select number of businesses that are ably to say they've been around downtown as long as Tico's; there aren't nearly as many who've had continued success after a fire. The restaurant has become a staple to the area and the folks there have worked diligently to ensure that it remains so. Visit Tico's for a fresh take on Mexican dining and see why it's become Lincoln's window to Mexico for the past 40 years.
---