402 Creamery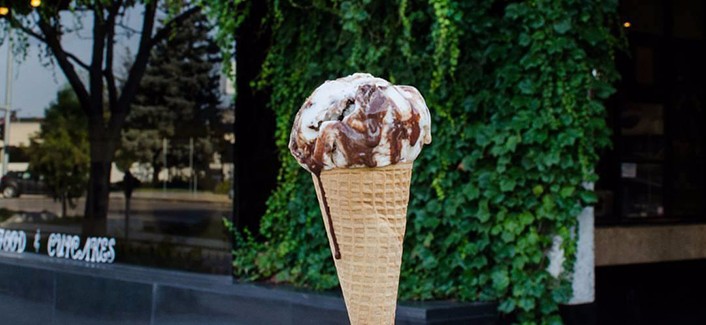 Chocolate milk and cookies, fudge brownie, cinnamon with snickerdoodle chunks. 
402 Creamery is downtown's newest ice cream shop which prides itself on its rich, small-batch creations. 
Located at the Lincoln Community Foundation Garden at 1415 N St, 402 Creamery shares a space with LuLu's Comfort Food & Cupcakes. Owner Tyler Mannix said he decided to team up with Lulu's because, aside from being great people, they've provided him with the opportunity for his business to get started and grow. 
The ice cream shop celebrated its grand opening on September 16 and is open both during afternoon and nighttime hours.
Mannix said he's loved ice cream for as long as he can remember and hasn't stopped making ice cream since receiving an ice cream maker for his birthday last year.
"Within the last few years, I've been lucky enough to have some of the nation's best ice cream," Mannix said. "With the chance to try these companies and experience such amazing ice cream, I decided I was going to try and bring that quality of ice cream to Lincoln."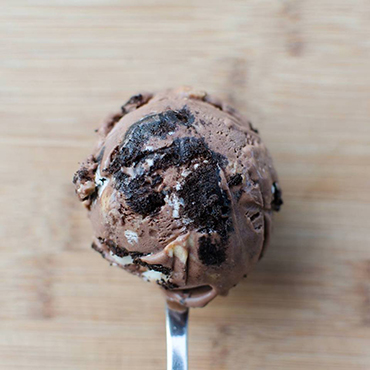 Mannix said he's passionate about making ice cream and thinks customers can taste that in his creations.
"The reception from customers so far has been great, everyone seems to really enjoy it," he said. "I take a lot of pride in my ice cream and work very hard to make a delicious, high quality ice cream and I think people can tell."
Flavors at 402 Creamery are rotated based on sales and customers' feedback. There will be rotating and seasonal flavors in addition to 5 or 6 core flavors which will stay for longer periods of time. 
Mannix said he tries to use all local ingredients and plans to workshop new flavors with local establishments.
"I believe in supporting local businesses and think collaborating with local businesses is a great way to come up with fun, delicious flavors of ice cream," he said. "I'm currently in the works with a couple local businesses to help me create a new ice cream flavor that should be really good. I do plan on making seasonal flavors. I'm thinking pumpkin pie, apple pie, sweet potato casserole and maybe a s'mores."
Though 402 Creamery is still new, Mannix said he already has plans for the future of the business, including creating a way to go mobile with his ice cream to sell during various events in Lincoln. 
For now, Mannix is focusing on his ice cream creations and promoting his new business. He's currently using social media to post hours, events and new flavor releases. 
"If anyone has special flavor requests or would like us to cater an event, we are more then willing to work with you to make that happen," he said.
---
402 Creamery is located at 1417 N St. 
Hours are subject to change, visit the 402 Creamery Facebook Page for up-to-date hours.
Follow them online at:
Website: 402creamery.com
Facebook: 402 Creamery
Instagram:@402creamery