A Building Block

After 40 years, the Lincoln Running Co. decided to get a facelift. 
Ann Ringlein, owner of the Lincoln Running Co., wanted to do something special for the store's 40th anniversary. Ringlein said the company came to a crossroads to either open another store or to expand their Downtown location. In the end, providing good customer service in a single location took precedence, and she decided to focus efforts on her growing Downtown location.
Ringlein said the expansion isn't about changing the store, it's about making customers' experience more comfortable. 
"We just didn't want to open another one and not give the customer service we do Downtown," Ringlein said. "We love what the city is doing Downtown, and basically we just wanted to make a commitment and say, 'Hey, we're staying Downtown.' We're not opening two stores or going somewhere else. We're going to be bigger and do the same thing, but with twice the size."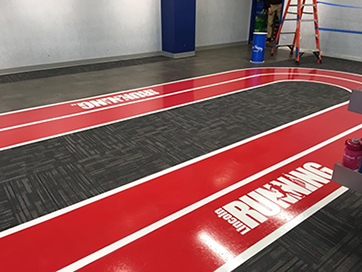 In addition to a larger space, the expansion also means a renovated store and includes a small running track for customers to test out the store's running shoes. 
The expansion is a sure a sign of the store's commitment to staying Downtown. The store tried various locations across Lincoln, but Ringlein said Downtown has always provided the best community with other local business owners and having the University of Nebraska-Lincoln so close by created lots of activity.
The Lincoln Running Co. expansion is just one of many transformations in the surrounding area. The new Fly Fitness opened at 201 N 13th St. and found a new neighbor with Brown Immigration Law, LLC. The office for UNL's Communications Department will also find a home in the space above the Running Co. 
"This P Street, Q Street area is becoming so vibrant and busy," Ringlein said. "There are a lot of individual people and stores who have committed [to the area], and that's what I think is so cool about it. When I look around, communications is going upstairs and it's like 'Oh, this is going to be so great!' Then when Jenni Bruning-Brown put in her Fly Fitness studio it was awesome and it looks great. And Swanson Russell made the commitment to stay Downtown."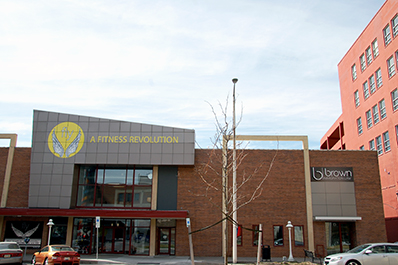 David Brown, founder of Brown Immigration Law, previously headquartered his company in the Haymarket. After months of renovation to 201 N 13th Street, the company moved into their new, larger space. 
"We wanted to grow into a bigger space and have something to call our own." Brown said. "Less than five percent of what we do is involved with the state, most of it is California, New York or elsewhere. So with that in mind, we didn't have to do anything in particular, but my wife wanted to put in a fitness studio, and we found a building that suits both our needs. We didn't particularly need to be Downtown, but we loved that particular corner and space."
Like other businesses in the area, Brown said he plans on staying Downtown for years to come. 
"We're planning on making that our headquarters for the next 17 years," he said.
---
The Lincoln Running Co. is located at 1213 Q. St. 
Their hours are:
Monday - Wednesday: 10 AM - 6 PM
Thursday: 10 AM - 8 PM 
Friday: 10 AM - 6 PM 
Saturday: 9 AM - 6 PM
Sunday: 12 PM - 5 PM
Follow them online at: 
Facebook: The Lincoln Running Co. 
Instagram: @lincolnrunning
Twitter: @lincolnrunning
Website: http://www.lincrunningcompany.com/
---
Brown Immigration Law PC, LLO is located at 201 N 13th Street, Ste. B
For more information, follow them online at: 
Website: http://www.brownimmigrationlaw.com/