2016 Annual Meeting Award Winners

Significant Private Development: Swanson Russell
Last June, Swanson Russell, a staple in the downtown community, held a groundbreaking ceremony for their "Super Big Non-Move". The Non-Move meant expansion of their downtown headquarters and improvement to their offices, as well as a commitment to stay and continue growing downtown. Over a year later and the Non-Move is complete. What was once a parking lot now holds modern, open office space, allowing for more collaboration and interaction within the agency.
The expansion and renovation has been a hugely positive change for Swanson Russell. The company has expanded their meeting space, upgraded technologies and now has an all-agency commons area called The Bridge, which connects both buildings and is a central focal point for employees. In addition to improving office space for current employees, the expansion also allowed room for 30 new employees to join the agency.
Swanson Russell's dedication to their employees and their commitment to remain downtown is a move that will be felt in the downtown community for years to come.
---
Significant Public Development: N Street Bikeway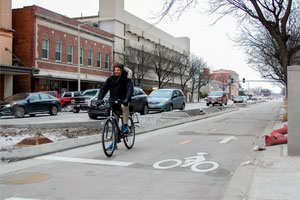 Starting with the vision of the 2005 Downtown Master Plan and solidified in its 2012 update, a protected bikeway has long been desired to complete the "last mile" of missing bike trail. With Lincoln's heavy cycling traffic, it was imperative to create a safe bikeway not just for cyclists, but for motorists and pedestrians as well.   
With the leadership of Mayor Beutler and major support from the Great Plains Trails Network and several donors, the Master Plan's vision has now become a reality. 
Nebraska-based contractor Meco-Henne began construction in March of 2015 and 
Beutler officially opened the N Street Bikeway on April 23rd of this year. The 3.35 million dollar project runs from Antelope Valley to the Haymarket, connecting a crucial section of Lincoln's trail system. Alta Planning & Design and Olsson Associates developed and designed the master plan for the project, while Great Plains Trails Network, a local recreational biking group, served as a community champion to help complete funding.
The payoff today is undeniable. Cyclists are able to safely bike to work, school and recreationally through N Street. Nearly 500 cyclists utilize the bikeway each day to navigate downtown.
The new bikeway had, and will continue to have, a profound effect on the face of 'N' Street. With more than 87,000 people living within two miles of the proposed 'N' Street bikeway, the project makes downtown more accessible to nearly one-third of Lincoln's residents.
---
Residential Development: President Ambassador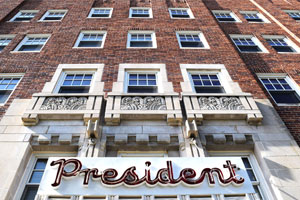 The Interfaith Housing Coalition became a nonprofit organization in 1991 to own and operate the historic President and Ambassador apartments. The coalition saw a need for low-income housing in the downtown area and their buildings provided a safe and convenient location for residents.
By 2012, extensive renovation was needed. The art deco buildings, which were built in 1928, are listed on the National Register of Historic Places, so renovating as well as preserving the buildings was critical to the coalition.
Today, under the leadership of President Robert Lange and after an 8 million dollar upgrade, the units are bigger, modernized and more livable. The renovation included new appliances, greater wheelchair accessibility and an upgraded elevator system.
The President and Ambassador buildings hold a rich piece of downtown's history. Thanks to the Interfaith Housing Coalition, these apartments will continue to help low-income residents find a reliable place to live and continue to enrich downtown's culture.
---
Young Entrepreneur: David Chait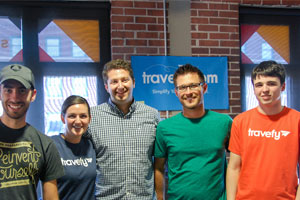 David Chait first had the idea for Travefy in 2012 after dealing with travel plans for an unorganized bachelor party. He wanted to change the chaos of group travel by creating an all-encompassing tool for consumers to plan their trip with others.
David partnered with Chris Davis, Travefy's co-founder and CTO, and began working on the web and mobile travel planner. Once Travefy launched in 2013, it received immediate praise and recognition from national publications such as the New York Times and Wall Street Journal.
David credits the last year as transformational for Travefy. The company transitioned from a travel planning tool for everyday consumers, to a business-to-business software suite, targeting mainly travel professionals. Travefy now boasts customers in over 1,300 cities from countries around the world.
In the last few years, Travefy has brought even more national recognition to Lincoln's startup scene as well as numerous sustainable jobs for the downtown community. As David continues to grow his company, the startup scene grows right along with it.
---
Downtown Business Leadership: Eagle Printing & Sign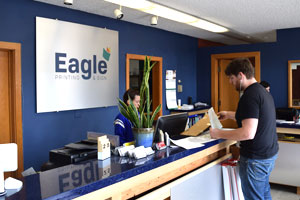 For decades, Eagle Printing has been a staple within the downtown business community, though not always under its current name. Formerly a Big Red Quick Print franchise and later known as Eagle Quickprint, Jaci and Gary Ashmore bought the business in 1991 and ran the company until 2013 when their son, Matt Ashmore took over.
This year, Eagle underwent another rebranding and changed its logo as well as its name from Eagle Group to Eagle Printing and Sign. Since its inception, Eagle has provided hundreds of local businesses and thousands of customers with their printing and paper needs.
Eagle is dedicated to their community. In addition to sponsoring many Lincoln events and working with local businesses, Eagle is also committed to making their business as eco-friendly as possible. They do their best to reduce waste, recycle and choose environmentally friendly products whenever possible. The company was voted Wastecap's member of the year in 2015 for their environmentally conscious efforts.
As Eagle celebrates their 25th anniversary, they also celebrate 25 years of constant relationships with local businesses and events. With their high quality work and reliable, friendly staff, Downtown Lincoln can only hope for 25 more.
---
Downtown Champion: Nader Sepahpur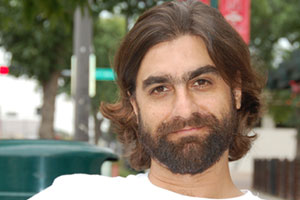 Nader has been an integral part of downtown since the 1980's, where he could be found walking the downtown streets and working summers at his family's restaurant. Today, Nader's creations can be seen around downtown with Yia Yia's, Marz Bar and AmuManu, in addition to his five downtown properties. Nader's presence has been a constant force in a competitive, oftentimes transient industry.
In addition to providing downtown with good food, Nader has also formed a community within his restaurants, which he said is important to him. AmuManu in particular has created a hub for international students looking for familiar food, close to campus. Nader's restaurants have provided a piece of home for many students and downtown residents.
Beyond employing over 60 full and part-time employees, Nader takes pride in the success and development of his people. Through the years Nader has improved the lives of his loyal employees who often become friends. Not only has Nader impacted his own endeavors, but the entire community around him as well.  He has provided constant support for the small businesses in our city and contributed unmatched industry leadership for DLA and the entire downtown community. 
When asked how Nader has impacted downtown, Nader's friend Clay Smith had this to say:
"Given his tenure and dedication, Nader is the godfather of Lincoln's downtown restaurant scene.  He is widely respected by his peers and loyal patrons alike.  He's a cool guy with a cool style and we are all enriched by his creativity, passion and delicious food."