Empyrean Brewing Co. Celebrates 25 Years

The Empyrean Brewing Co., the state's oldest craft brewery, will celebrate its 25th anniversary this year with three limited anniversary brews, as well as a variety of events across the state.
According to a press release, the largest anniversary celebration will be on Friday, March 25 at Longwell's in Lincoln's Railyard. The public is invited to join brewery staff in a 25 tap takeover — meaning 25 different Empyrean ales and lagers will be on draught or cask at the same time.
Conceptualized by two brothers and their best friend over 25 years ago, Empyrean Brewing Co. was originally a subset within Lazlo's Brewery & Grill.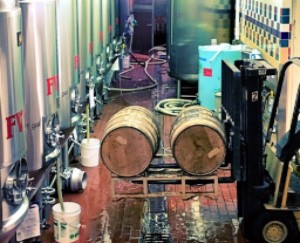 Head brewer Rich Chapin has been with the company since its inception in 1990. At the time, Chapin was working as a stock broker by day and home-brewing hobbyist by night, when he was recruited to lead the brewing operations at Empyrean.
Since then, he has brewed well over 200 different types of beer.
To honor the company's 25th anniversary, Chapin has created three special recipes. The first two are a barrel-aged barleywine and a barrel-aged wheatwine. They will be available in mixed four-packs in March and by the bottle at Lazlo's Brewery & Grill and FireWorks Restaurant locations. The third is an Anniversary Hazelnut Ale, based on their recipe from 1996 that will be served on draught only at Lazlo's and FireWorks in commemorative glassware starting on March 7.
For more information on any of their beers or celebration events, visit the Empyrean Brewing Co. website and Facebook page.