Engineering Firms Celebrate Milestones
Two Downtown engineering firms celebrate landmark anniversaries this year. 
Olsson Associates, located at 601 P St #200, celebrated their 60th anniversary on March 9 and The Clark Enersen Partners, located at 1010 Lincoln Mall #200, celebrated their 70th anniversary on Feb. 1. 
Downtown Lincoln contacted both firms to learn a bit more about their history and how they chose to celebrate their milestones.
---
Olsson Associates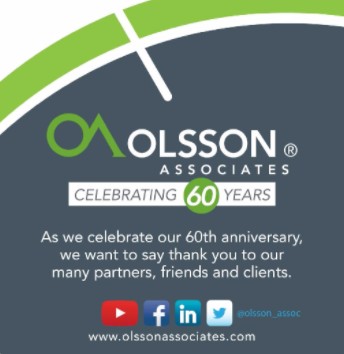 1. Can you give a brief overview of the history of Olsson Associates?
Olsson Associates was established by John E. Olsson in 1956 as a primarily municipal engineering firm with a small staff. Over the years, the firm grew, adding services, offices and employees until it reached today's 925 employees in nearly 30 offices that span seven states. More history can be found here: http://www.olssonassociates.com/history
2. What are some of the more notable Downtown Lincoln projects Olsson Associates has worked on recently?
Hudl Headquarters, Allo high-speed fiber design, Thermal Energy Storage Facility at UNL, Aspen Heights Student Housing, N Street Cycle Track, the Canopy Lofts, the Railyard, Courtyard Marriott, Lattitude Apartments and Color Court 
3. Why is it important for you guys to be located Downtown? How does that impact your company's culture?
"The heart of our firm has always been in Downtown Lincoln," said Brad Strittmatter, President of Olsson Associates. "We're committed to the city and are especially proud of projects close to home that we have been intimately involved in, such as the Antelope Valley revitalization and the West Haymarket redevelopment."
Olsson provided transportation, land development, environmental, water resources, public infrastructure, field services and survey services for both the Antelope Valley and West Haymarket projects.
Being Downtown also served as a pipeline for engineering students and other professionals to begin their careers in Olsson's Lincoln office or in one of the firm's regional offices across the United States. At last count, Olsson Associates employed roughly 130 University of Nebraska-Lincoln grads across the firm.
4. What have you done to celebrate your 60th anniversary? 
We celebrated our anniversary week with a variety of activities for our employees. Anniversary date was March 9. One of the day's events involved giving 60 employees $60 cash to donate or pay forward in any way of their choosing. The employees were randomly selected and they reported back where they made their donations. Some employees shared stories and photos from their donations and we turned this into a little online book which we shared with our employees. We also gave all of our employees a 60th anniversary coffee mug and invited them to take a "mug shot" photo. We posted the highly creative photos on our internet and awarded coffee gift cards to the best, most creative photos. Also, all of our offices held employee parties during our anniversary week.
5. Anything else you'd like to add?
Olsson currently employs approximately 225 people in the Lincoln office and was recently named 4th in Lincoln's Best Place to Work for large companies.
---
The Clark Enersen Partners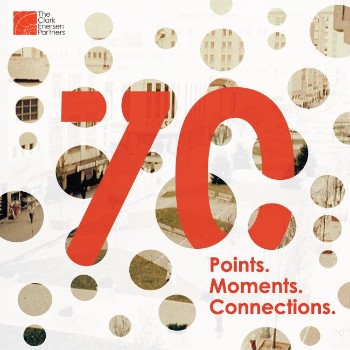 1. Can you give a brief overview of the history of Clark Enersen?  
The Clark Enersen Partners was founded in 1946 in Lincoln, Nebraska. With current offices in Lincoln, Kansas City, Missouri, Fairway, Kansas and Portland, Oregon, we currently have over 100 talented professionals in our firm. We provide professional design and engineering services in the areas of architecture, landscape architecture and site planning; interior design and mechanical, electrical, structural and civil engineering. Our work history includes a wide variety of facilities and outdoor environments that support K-12 schools, collegiate academic and student life; science and research, government, libraries, private enterprise and commerce; arts, entertainment, civic architecture, urban design, athletic and recreational venues. We have completed work throughout the entire Midwest, and we have been recognized locally, regionally and nationally for design excellence. The Clark Enersen Partners take great pride in providing architecture, engineering and site planning and design services that help to enrich our culture and environment and make the communities in which we work better places to live.
2. What are some of the more notable Downtown Lincoln projects Clark Enersen has worked on recently?  
Our firm designed numerous Downtown projects over the past 70 years but most recently: Assurity Life Insurance Corporate Headquarters and the adjacent Union Plaza park; One Landmark Centre and Three Landmark Centre Buildings and the adjacent Lincoln Mall;  Swanson Russell Building Addition and Remodel;  University of Nebraska Memorial Stadium (North and East Stadium Additions and adjacent plazas); Centennial Mall.
3. Why is it important for you guys to be located Downtown? How does that impact your company's culture?  
Our office location has always been Downtown- our office was located in the Sharp Building (13th and N), in the NBC Center (now Wells Fargo Building at 13th and O) and we're currently located in the One Landmark Centre on Lincoln Mall.  The Downtown location is important to our staff members- our staff consists of highly creative people who desire to be close to the University, the arts, entertainment, etc.  Our firm's mission, vision and values support and are supported by our Downtown office location.
4. What have you done to celebrate your 70th anniversary (both during the year and on the actual anniversary date)? 
The actual anniversary date was February 1.  We celebrate the anniversary date every year with an evening event that includes dinner and a program.  This year the program was entitled "Points, Moments, and Connections"- which focused on past POINTS in our history in order to make the most of those MOMENTS to form new CONNECTIONS for the future. 
5. What are some future projects you guys are looking forward to working on?  
We are excited about all of our ongoing and future opportunities to work in partnership with our private- and public-sector clients to design innovative places and environments.  Every project is an opportunity for us to have a positive impact on the lives of those who come in contact with our work.
6. Anything else you'd like to add?  
The current members of our firm are thankful for the opportunities that past and present members have had over the past 70 years to participate in the development of Lincoln's Downtown- but we all agree that the best is yet to come!