First Friday November 2017

First Friday Art Walk November 2017
As always it looks to be a great First Friday Art Walk. We have compiled a list of First Friday participants to help you decide your path downtown. Be sure to use #LNKFF when you post pictures to share your night.
---
719 P St. | 5:30-8:00 PM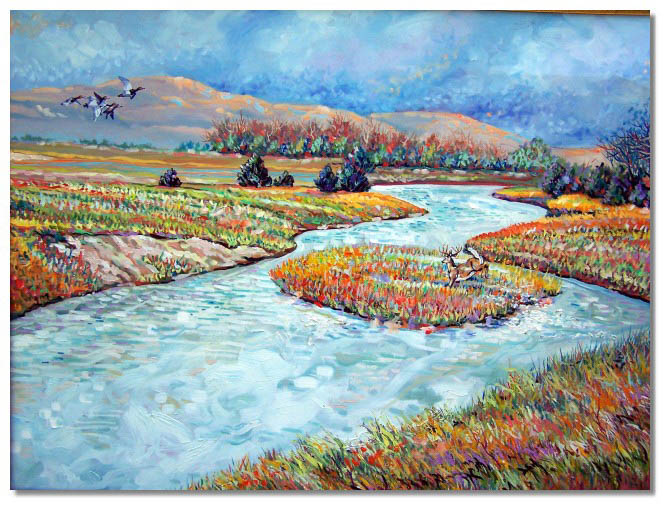 ---
941 O St. Suite 100 | 6:00-9:00 PM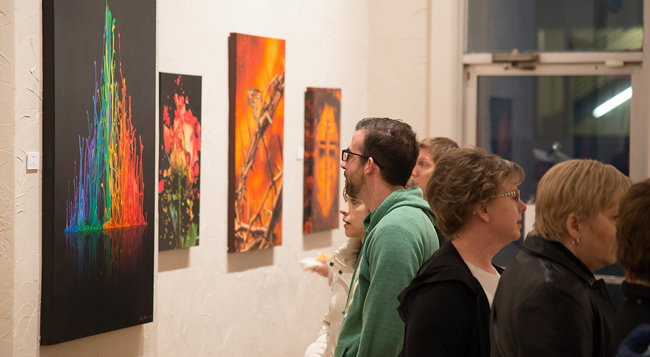 ---
124 S 9th St | 6:30 - 9:30 PM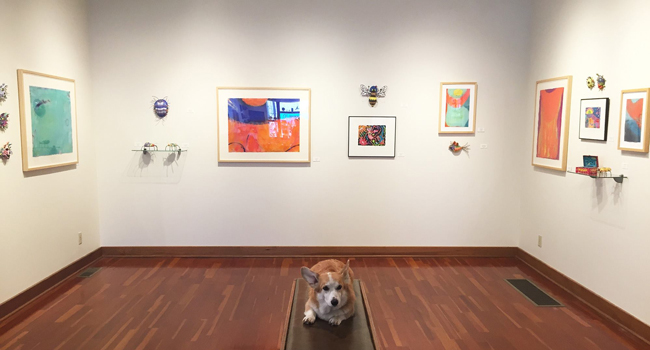 ---
119 S. 9th St. | 6 - 9 p.m.
Noyes Art Gallery is located in the heart of the downtown Lincoln art district. All artwork is original and for sale. Sixty member artists are represented in this professional and friendly cooperative gallery. Each month, a new exhibit is unveiled at the First Friday night opening, where the public is invited to meet the artists.
Artwork includes: Cooperative art installations, contemporary and traditional art of all kinds and styles, exterior sculptures, portraits, murals, furniture, folk art, blown glass, wood carvings, photography, bronze sculptures, silver and beaded jewelry, metal reliefs, paper art, watercolors, acrylics, collages, oil paintings, pottery, stained glass, and other made-to-order, one-of-a-kind art.
Focus Gallery Curated by Ronnie Reid with Lane Zimbelman,
Coleen Brill, Kevin Sinsel, Sheryll Hickman, Lynette Fast, Ambur Harvey, Casey Mitchell, Brandi Light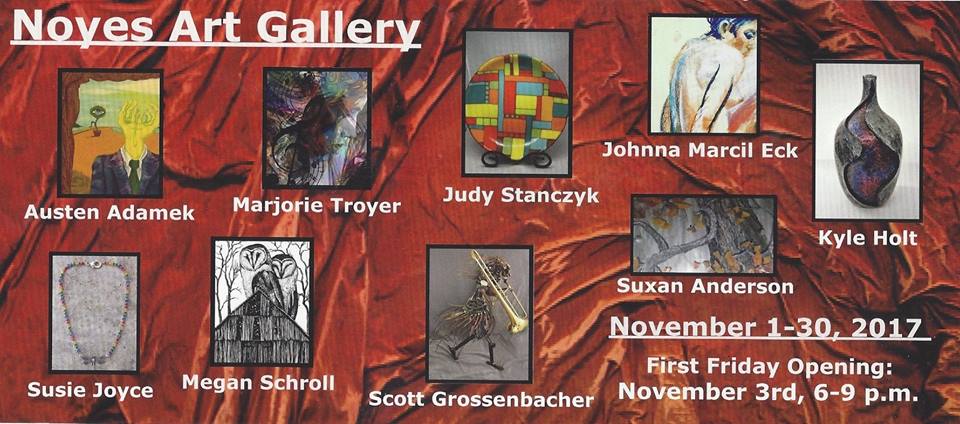 ---
1316 N. St. Suite 101 | 3:00-7:00
Metro Gallery is pleased to have in the feature gallery for the month of November, the paintings of Jean Danielson, opening/reception on First Friday November 3 from 3 to 7 PM.
Nonprofit Hub will feature for November local artist Amber Roland and student. A creative mixed media show is in store for you. 211 N 14  3rd floor. Opening/reception 5 to 7 on First Friday.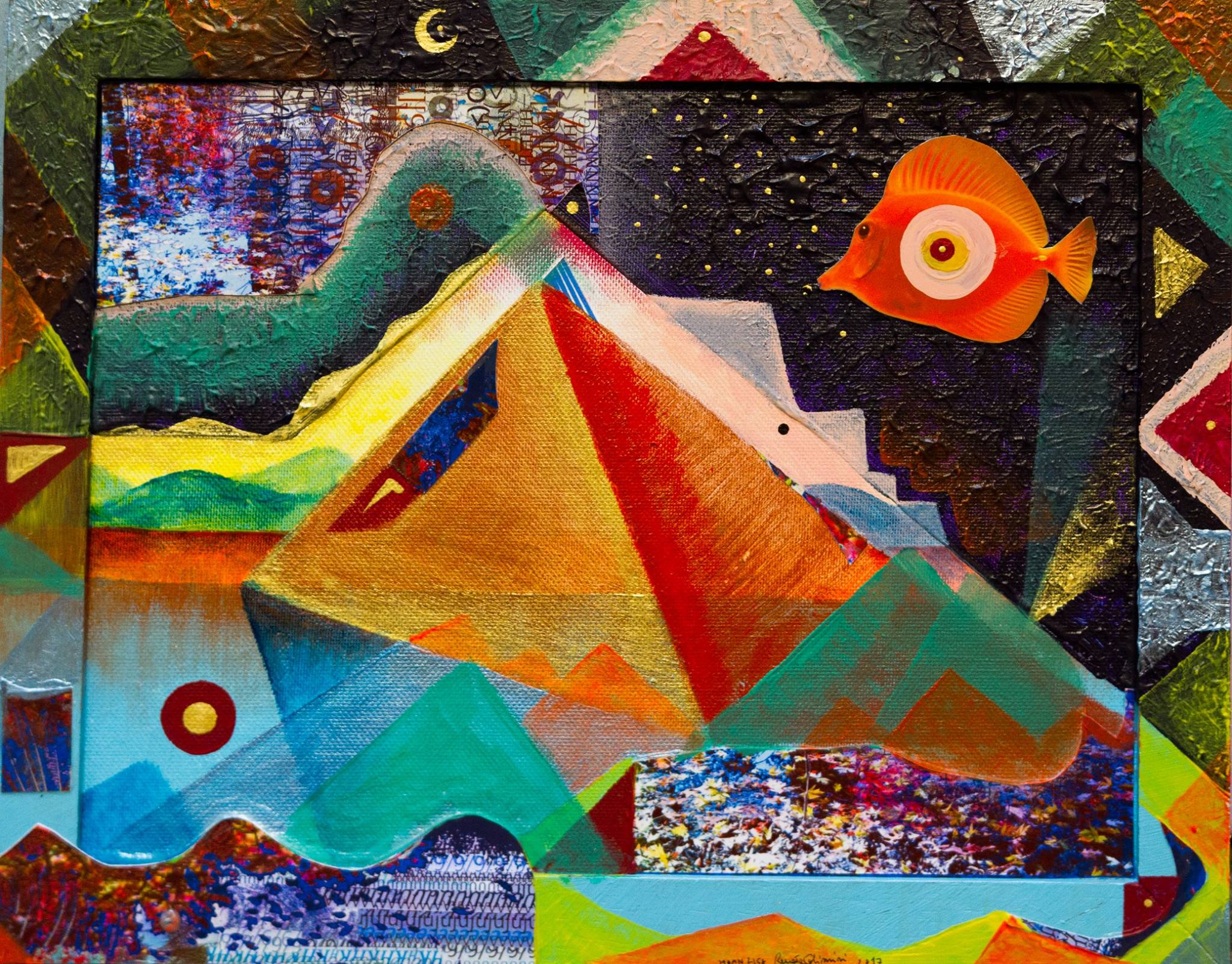 ---
Parrish Studios (second floor 14th and O St.) | 7 - 10  p.m.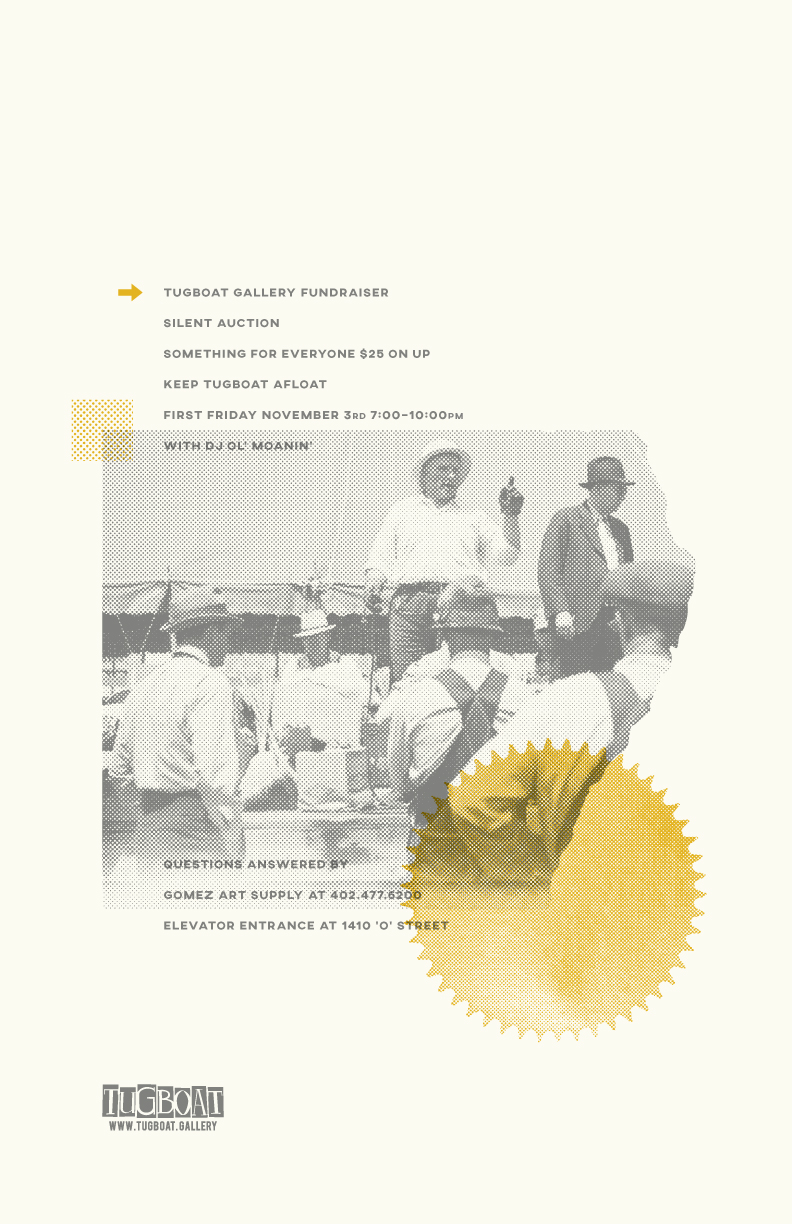 Tugboat Gallery humbly presents our One Night Only Silent Auction/Fundraiser to keep Tugboat afloat on First Friday November 3rd from 7-10. We will have a wall full of amazing art for ONLY $25.00 each, the rest of the gallery will be full of donated art that will having starting bids between $30.00-$500.00.  There will be something for everyone.
Tugboat Gallery has been serving Lincoln for 10 years and is an all volunteer non-commission gallery that exists solely on kind and generous donations. 
Artists donating work include:  Joey Lynch, Jake Gillespie, Nolan Tredway, Lisa Guevara, Craig roper, Sandra Williams, Jim bockelman, Lana Miller, Hannah Demma, Peggy Gomez, Pepe Fierro,  Ashley Goodwin, Anthony Hawley, Zora Murff, Rana Young, Matel Rokke, Michael Burton, Trudie Teijink, Larry Buller, Amanda Smith, Chadric 
Devin, Kristin Mahan, Kat Hedges, Brian Coate, Thalia Rodgers and more.
Tugboat Gallery is located at 116 N. 14th Street, Lincoln, Ne - second story above Gomez Art Supply.  Elevator entrance at 1410 'O' Street.  Questions answered and access gained to gallery by Gomez Art Supply at 402-477-6200
---
12th and R St. | 5:00-7:00 PM
Sheldon Museum of Art preserves, presents, and builds its collections, giving special emphasis to American art through cultural and transnational study. Sheldon invites inquiry and imagination in its educational offerings, contributes to the intellectual life of the University of Nebraska, and serves the needs of a diverse general public.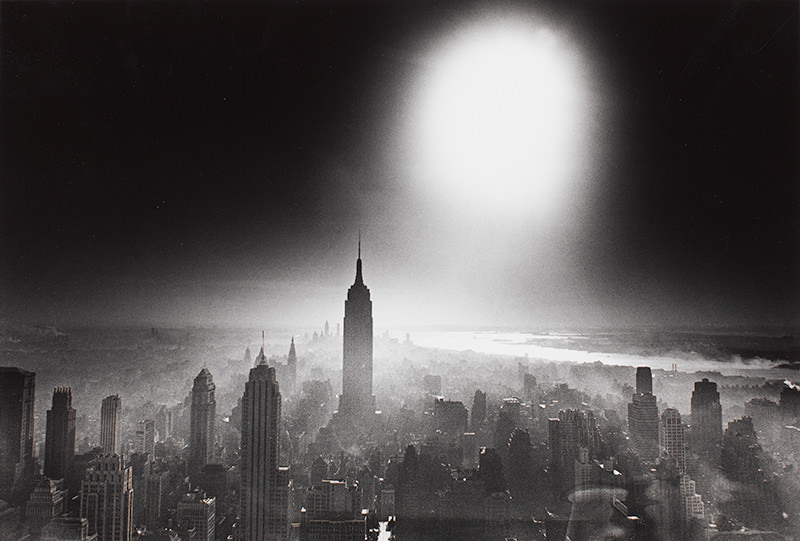 Dance students from the University of Nebraska's Glenn Korff School of Music will perform choreographed responses to the visual art in "Now's the Time."
---
Richards Hall-UNL City Campus |  5 - 7 p.m.  . Admission to the gallery is free and open to the public.
Nov. First Friday: MEDICI Exhibition
The Eisentrager-Howard Gallery is located on the first floor of Richards Hall, which is located at Stadium Drive and T sts. on the UNL city campus. The Eisentrager-Howard Gallery is open to the public and hosts changing exhibitions that extend the studio and classroom. Exhibitions include MFA thesis, undergraduate capstone, undergraduate juried art competition, faculty biennial, and invited artists.
For more information, call the School of Art, Art History & Design at (402) 472-5522.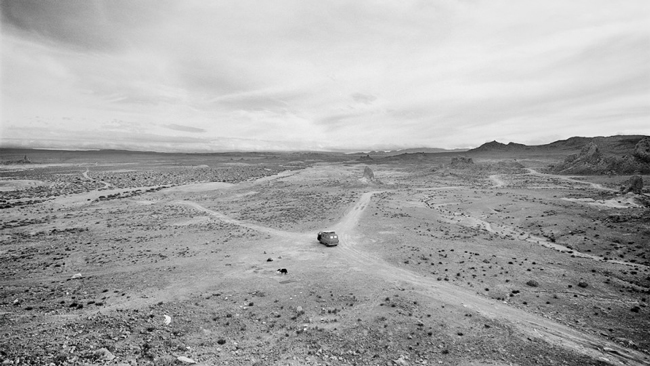 ---
701 P Street | 6:00 PM - 9:00 PM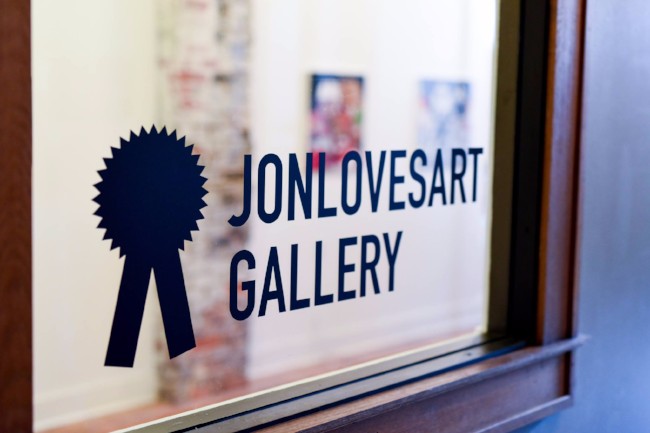 JONLOVESART Gallery is a contemporary art gallery located in Lincoln, Nebraska. This month will feature NET WORK, a show of internet/technology inspired pieces and projects by Jon Love.
---
The Lincoln Marriot Cornhusker Hotel
333 S 13th Street | 5:00-8:00 PM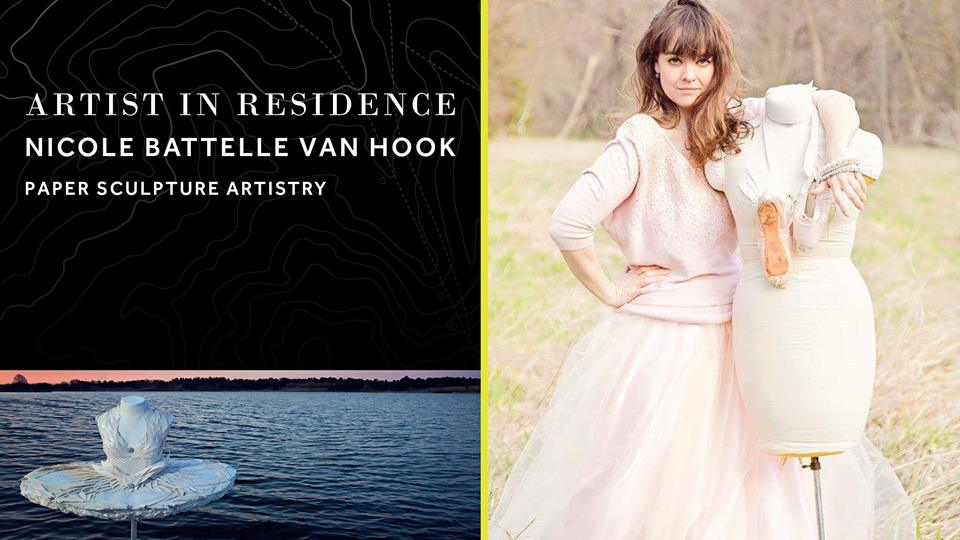 Dive into the local art scene by attending the First Friday Art Walk in downtown Lincoln, Nebraska. Our Artist in Residence Gallery & Studio will be part of the city-wide event, featuring several galleries across the city.

Meet & Visit with our second Artist in Residence, Nicole Battelle Van Hook, join us with our interactive canvas piece, where each attendee can add a touch of personality to the artwork. At the end of the evening, the piece will be for sale and 100% of the proceeds will go to a charity. 

Join us for "High Society" theme, featuring Maple Bourbon Old Fashions! More information on additional participating galleries in downtown Lincoln can be found at www.exploredowntown.org/first-friday-artwalk or on the Lincoln First Friday page. 

We look forward to brilliantly hosting you as part of downtown Lincoln's arts community.
---
130 S. 13th Street | 4:30pm - end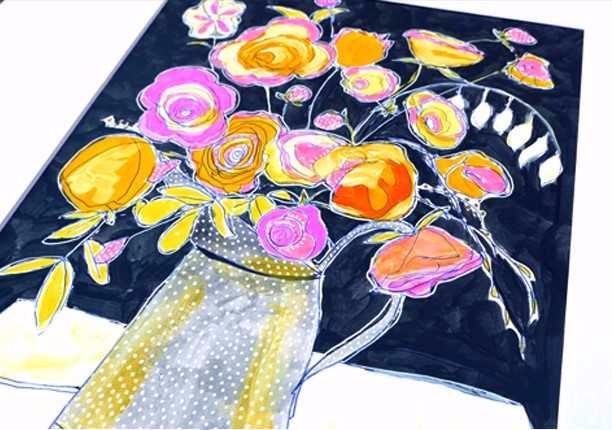 Jen Landis will be featured artist.
 Francie & Finch Bookshop is located between Kiechel Fine Art, Tugboat Gallery, Metro Art Gallery and the Nichole Battelle Van Hook Gallery in the Cornhusker Marriott (always have a great spread as well). Francie & Finch has beautiful art from local artists and beautiful books from around the world.  See you there!
---
1420 P St | 5:00 - 7:30 PM

Instead of our late night hours being on Thursdays, starting in January the Museum will be open until 7:30 on the first Friday of every month to accommodate working families who don't have a chance to come during the day. To make it even more accessible, we'll be offering free parking in the University Square Parking garage at 101 N 14th Street (access to garage is off of P street, just before 14th, look for signage the night of the event). Each family night will have a specific theme with lots of fun activities and even costumed characters to keep your kiddos entertained all night.
Join us on the evening of November 3rd and bring your Thanksgiving spirit! Help us gear up for Thanksgiving and kick-off our food drive!
---
140 N 8th St | 8-10 PM

---
701 P St # 102 | 6-8 PM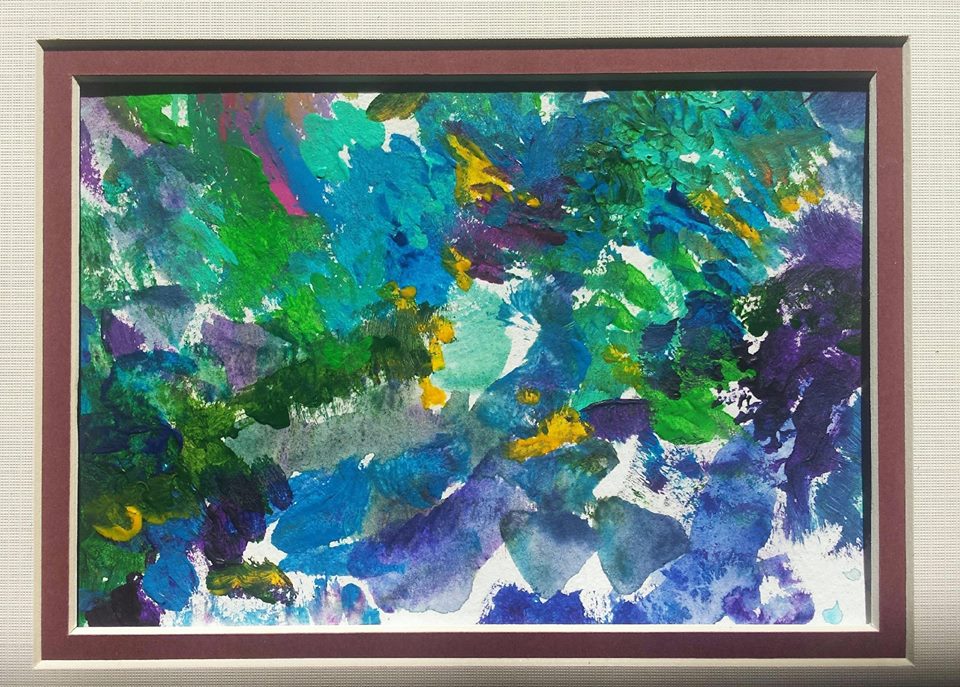 Every First Friday, Indigo Bridge hosts fresh, new art and live music. Join us on your art walk to see some fabulous works in paint, photography, mixed-media and more. Indigo's wall space is dedicated to our partnership with The 815 and Artists on the Edge. Each month the Wood Room has a new featured artist. This month is a little different!  Join us for a poetry showcase featuring the work of local poets Sam Lee, Lindsey Hand, Tina Le, & Alexis Oldham.  On the walls we'll have Kelsey Varisco's lovely work.
---
416 S 11th St | 7-9 p.m.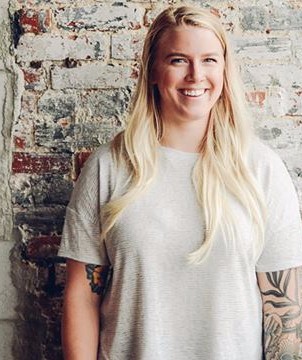 Join us for the First Friday of each month to welcome our new featured artist! Crab some craft beer, a cocktail, or a glass of wine and enjoy the new art. 
--> $1 off Pints and Cocktails from 7-9 p.m. on Friday!
POP-UP ART SHOP with Grace herself from 7-8 p.m. She'll be selling prints of original artwork.
NOVEMBER ARTIST: Grace Bogner MEDIUM: oil/acrylic on canvas 
Grace Bogner grew up in the desert of Joshua Tree and eventually moved to the prairie of Lincoln, Nebraska. As she grew she discovered a love for art and the ability to convey her inner dialogue onto canvas. She developed a connection to the idea that we were created out of dust and breath. Her work portrays the labor we do with our hands, the time we spend getting lost in it, and the growth that comes as a result.
---
Kiechel Fine Art
1208 O Street | 10-9 p.m.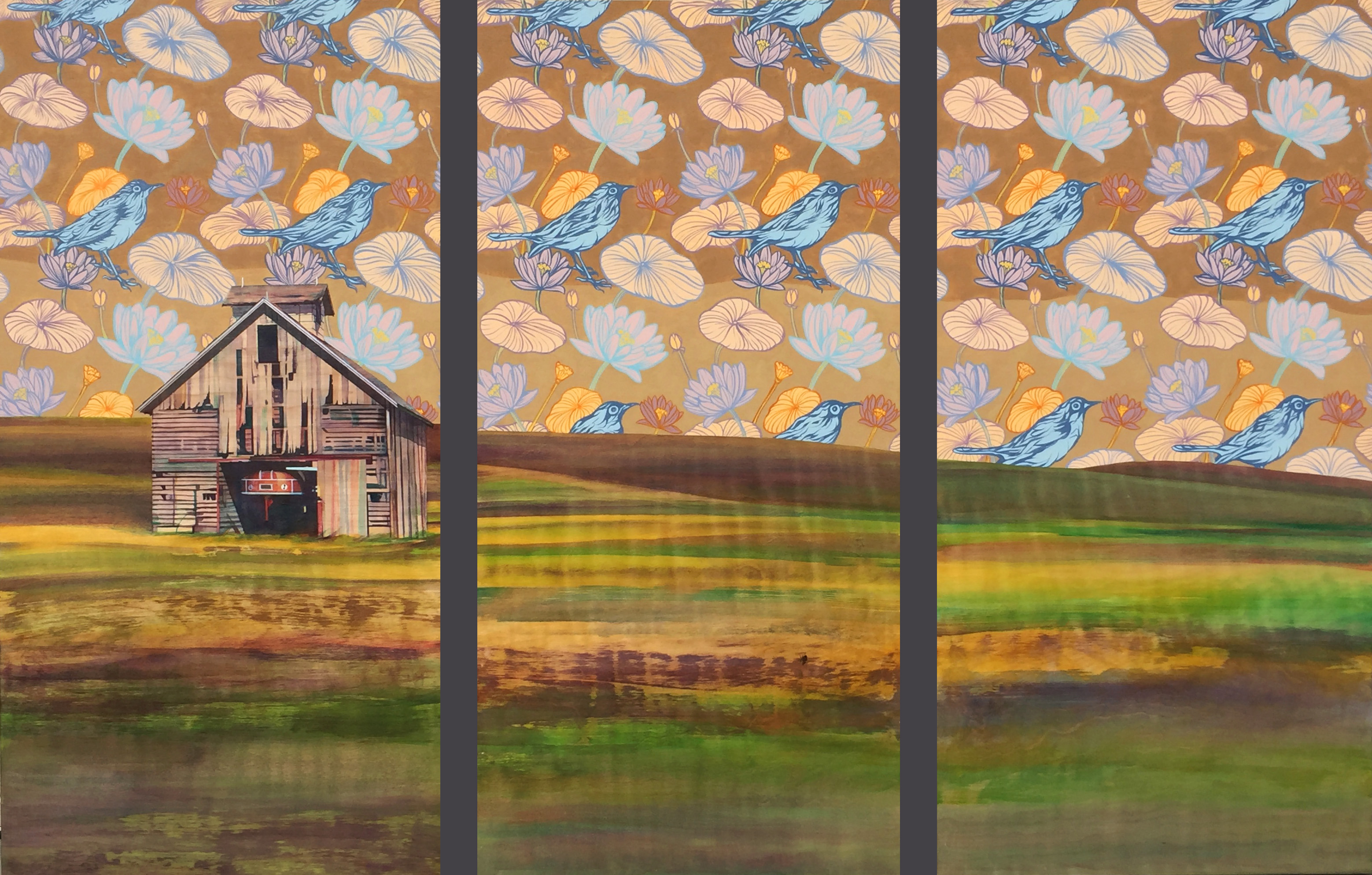 ---
Nebraska History Museum
131 Centennial Mall North | 1:00-5:30 p.m.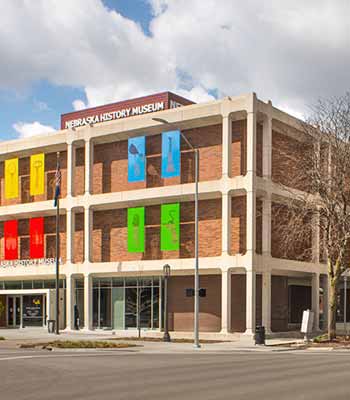 12,000 years of history! Many people and cultures have made Nebraska their home. Come see fascinating artifacts and hear amazing stories from our rich past. Admission is free
---
St. Paul United Methodist Church
12th and M Streets | 12:10 PM

 SPUMMA
FRIDAY NOON CONCERT and ART -  NOVEMBER 3
12:10 p.m. free concert in the Sanctuary featuring The Lincoln Early Music Consort performing Medieval and Renaissance music (13th to 17th centuries). During the concert they will also talk a bit about the instruments
Prior to the concert Nancy L. Schoen will play the McKInley Bells which can be heard from the church tower and also broadcast into the Sanctuary.
An art exhibit in Paine Parlor will feature the work of Tita Hynes who is from Puerto Rico. Most of her very colorful work is done in acrylics. All money received from any sale of her work or donations will be sent to Puerto Rico.
Lunch ($5) will be available in Paine Parlor beginning at 11:30 a.m. and following the concert.
for further information contact Dick Morris (402) 261-3104 or crichardmo@gmail.com
---
Book Signing and Artwalk | 5 - 8 p.m.
UNL Campus- Architecture Hall, Room: Architecture Hall Gallery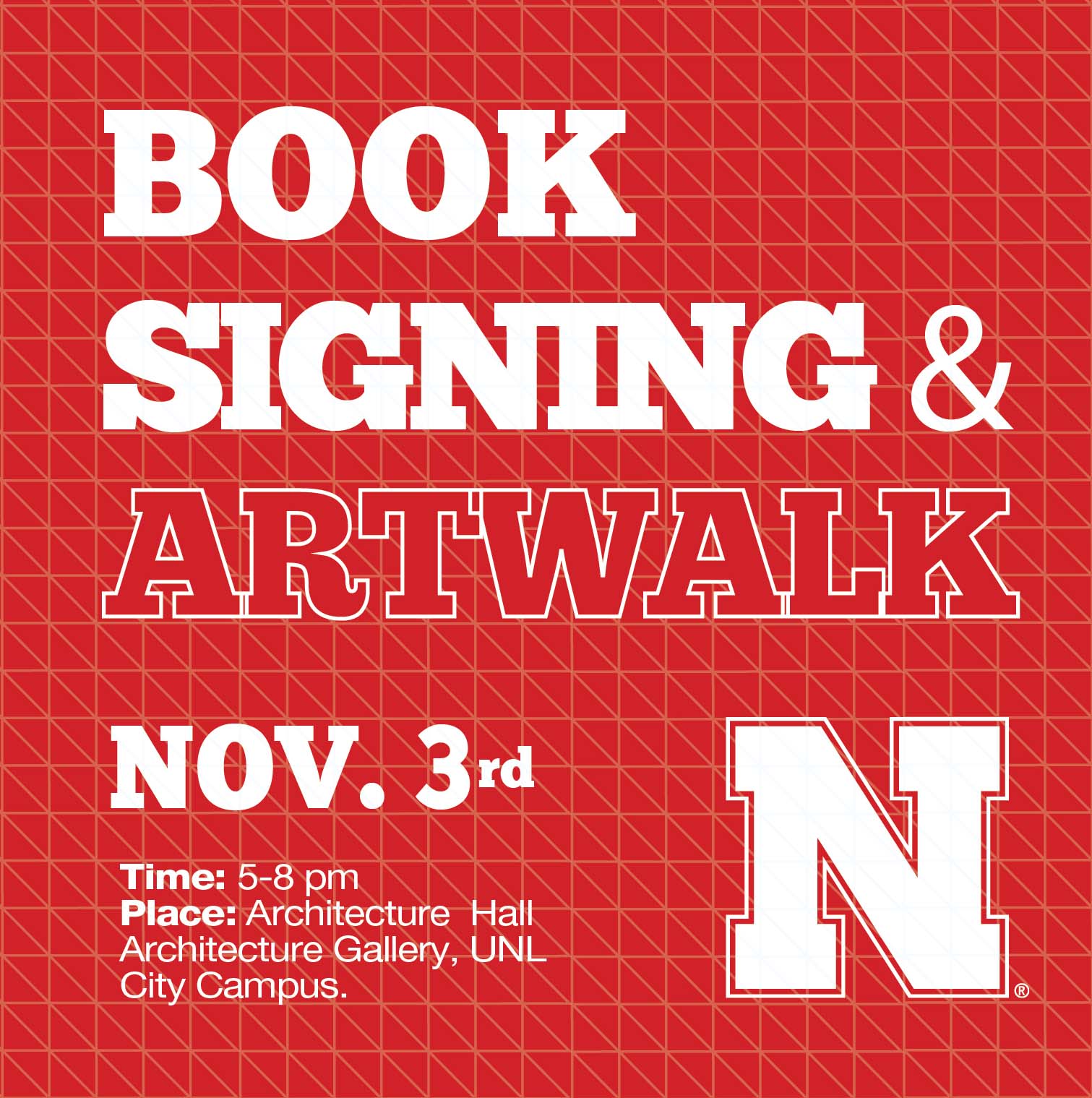 Get a signed book copy from the College's newest published authors: Sarah Karle, David Karle and Timothy Hemsath. After visiting with our esteemed authors explore the latest work on exhibit from our design studios and education abroad programs. Plus you won't want to miss our one-of-a-kind Kruger Collection of Miniature Furnishings and Decorative Arts.
---
We apologize for any omissions or errors in this month's listing. Please feel free to contact us if you have any changes or additions at mjohnson@downtownlincoln.org