Haymarket Farmers' Market

Haymarket Farmers' Market Heats Up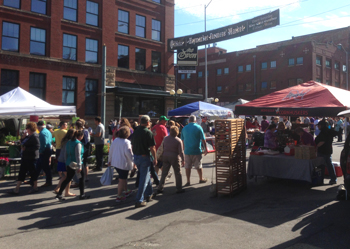 The Haymarket Farmers' Market officially blew the whistle to open the 2016 season on Saturday, May 7th to hundreds of eager attendees who had anxiously awaited all winter long to get their hands on fresh produce and handmade goods.  The vendors spent the last few months working in their fields, kitchens, and craft rooms in preparation for this early-morning ritual that they will return to each week until the market season ends on October 15th.
The Haymarket Farmers' Market is a family-friendly experience that offers local, regional, and international flavors for everyone to enjoy.  The sights, sounds, smells, and free samples make the trip worth the effort of waking up early on a Saturday morning.  More than 150 vendors setup shop in the Haymarket between Canopy, 7th, 8th, P and Q Streets to sell their goods from 8:00 a.m.-12:00 p.m., no matter what mother nature sends their way.  Rain, wind, chilly mornings, and hot summer days are no match for the dedicated and hardworking farmers, crafts people, artisans, bakers, and entertainers that make the farmers' market a vibrant and welcoming place to be.
The market, which is the largest in Lincoln, offers a huge selection of seasonal produce, baked goods, meats and cheeses for patrons to choose from.  Market goers can delight in knowing that the items they purchase are locally grown and harvested and support small farmers, business owners and our local economy.  International flavors provided by local restaurants are also available; the smells of breakfast burritos, baklava, egg rolls, and kabobs intertwine throughout the streets with the scent of fresh flowers, kettle corn, and hot coffee.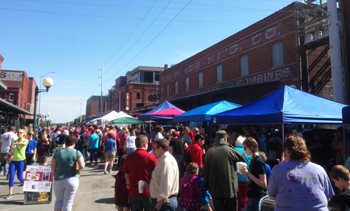 Patrons can also peruse the non-edible items available from various artists, crafters, horticulturists, and photographers.  The vendors offer goods for people of all ages – from dresses, toys and hair ribbons for children, to paintings, lawn ornaments, and jewelry for adults.
Possibly the most enticing feature of the event is that you don't need to spend your entire weekly budget to enjoy the Farmers' Market.  Simply taking a stroll through the streets, soaking in the atmosphere, tasting a delicious sample, and listening to the live musicians can be the greatest investment you make all weekend.
---
For more information about the Haymarket Farmers' Market, and to view a complete listing of weekly entertainment, click here.
---
Please note that the following items are not permitted in the designated market areas:
Weapons, personal knives, utility tools.
Animals, no matter how cute or well behaved, unless they are service animals for disabled persons.
Posters, placards, stickers, balloons or promotional materials.
Haymarket Farmers' Market organizers may refuse entry or expel any person, as needed, to maintain a positive and safe event for everyone.
Thank you for your cooperation!