Here to Impress

 Jacob Williams and Jason Gieselman had their hearts set on Inkwell. 
The longtime friends planned on opening a screen printing business called Inkwell near 48th and O streets. 
Through fated circumstances, a business in Omaha had already claimed their name and the duo decided to check out an available Downtown space located in an alleyway off of 14th and Q streets. 
Today, that space has been renovated and turned into Ink Alley, Williams and Giselman's screen printing and embroidery business. The duo said the name came about once they decided on the alley space, and they want it to serve as a reminder of where the business first started. 
"We wanted to be Downtown, we both live Downtown and Jason is actually a student at UNL," Williams said. "We don't need a storefront, so being in an alley doesn't really matter. We just need a place to have a couple computers and have our equipment in the back."
Downtown Lincoln visited Ink Alley and spoke with the co-owners about their new business. 
---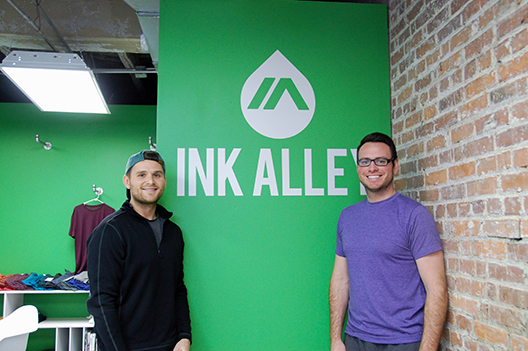 Downtown Lincoln Association: Is it just you two running the store right now?
Jacob Williams: Just us two currently. So we're both co-owners. We've known each other for probably 10 or 12 years.
Jason Gieselman: We played sports together in grade school, we're from two towns about 10 minutes apart.
Williams: I was in Chicago this summer—living there and I took a job there—but things didn't work out. So I had an opportunity to come back and start this. So we dived in, and here we are.
DLA: Are you primarily doing orders online?
Williams: It really just depends. I have a lot of contacts from places I've worked at so basically it's that and friends we have. We've reached out to a lot of events, we've done a lot of running events here locally because they always need t-shirts. Then it's just kind of word of mouth and referrals. 
Gieselman: He graduated from UNL, I'm a student there now and all of our friend and family support is from around here. So it's been fairly easy for us to start out and latch onto a few clients.
DLA: At least for now, are you primarily with just Lincoln or the Greater Nebraska area?
Williams: Really anywhere in Nebraska. It doesn't even have to be Nebraska, really. We had an order in Arizona.
Gieselman: I have a friend who goes to [Arizona State University] ASU, and we printed shirts for his flag football team. But I'd say we're targeting the Lincoln and Nebraska areas. We've kind of fallen into the racing niche so anybody in the area that's involved in that, we've been trying to reach out to. Basketball camps and academics, stuff like that.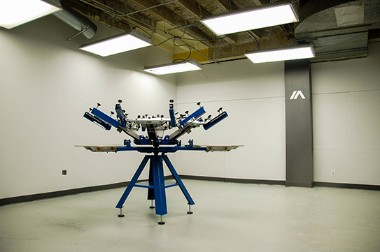 DLA: So what all do you have in your space then?
Williams: The front will remain our office area. The back is all production area. Our screen printing is still a manual endeavor, and there are presses that are much bigger than ours that are automated. But just starting out, we have a manual press.  
But we've got 1,400 square feet and about 1,000 of it will be dedicated to production, both press and embroidery. That's something a lot of the businesses down here do, not only screen printing but also embroidery for company polos and official apparel.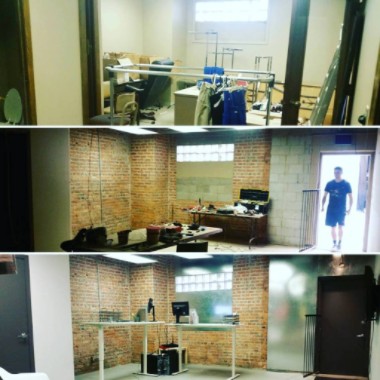 DLA: Do you think you'll expand and hire more employees, or just keep it between the two of you?
Gieselman: We were talking about how we wanted to hire someone in the first year to help us with the manual press, because I focus mostly on design and Jacob manages most of the accounts.
Williams: We feel lucky to be in Lincoln. When I graduated from Lincoln, I think the stigma surrounding Lincoln was kind of that people left after they graduated, but in the past few years I think that's really changing and we've been able to keep some of the more talented graduates around here. And the startup scene, I think, is more vibrant than it was four or five years ago. So we feel really lucky to be a part of that. When we talked about doing this, we thought about doing it in a bigger city, but the way things are going in Lincoln, and Nebraska in general—and with our background and contacts here—it just made sense to do this in Lincoln. We love the Downtown scene and we both live down here so it just made sense and we found this spot—actually, Jason found this spot while I was in Chicago. It was vacant for 12 years.
Gieselman: When I first walked in, I felt like I was going into a set for an apocalypse movie.
Williams: When, I look back I don't have any regrets about choosing the space, but it did take a bit longer than I had thought to make it into a workable area. And it's still always going to be a work in progress. But we were going for a warehouse feel anyways so I think this kind of plays right into that.
---
Ink Alley is located at 1332 P St. 
Their hours are:
Monday-Friday: 9 AM - 5 PM 
Follow them online at: 
Facebook: Ink Alley Screenprint + Design
Website: http://www.inkalleylnk.com/