Jazz in June 2017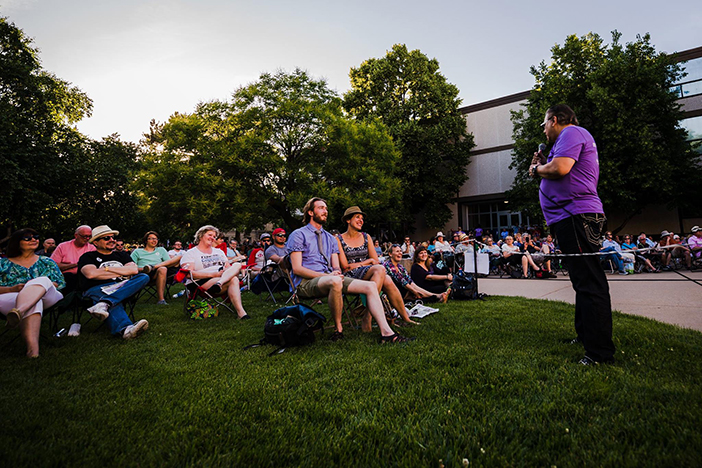 ---
Downtown Lincoln is home to Jazz in June's 26th annual concert series.
The series will take place Tuesday evenings at 7 p.m. this month and promises to be filled with entertainment to stimulate all of the senses. With world-renown jazz artists, food vendors, community bonding and the fresh outdoors, Jazz in June brings together all the best parts of the summer for an unforgettable experience.  
This year's jazz series, presented by NBC Bank and Nebraska Hematology and Oncology, showcases an array of talented artists such as five-time Grammy Award winner Terence Blanchard and the The Rad Trads. Beginning June 6th, the 2017 Jazz in June series kicks off with LeFrae Sci and Sonic Black featuring Lakecia Benjamin. 
Concertgoers are encouraged to bring blankets or lawn chairs for a relaxing and enjoyable evening surrounded by jazz, intriguing outdoor sculptures and harmonious summer skies. Jazz in June performances are free to all, however, concertgoers are encouraged to make a minimum donation of $10 per family to continue the series.
In conjunction with the performances, the Jazz in June Market is the ideal place to select dinner or do some midweek shopping. Dinner items, fresh produce, baked goods, ice cream from the UNL Dairy Store and much more will be available for purchase. The Market opens at 5 p.m. on 12th and R Streets and is organized by the Downtown Lincoln Association, the City of Lincoln, and UNL.
Before each concert, visitors are invited to take a tour of the gardens on the UNL campus. The free tour starts at 6 p.m. on the east side of Sheldon. Other free activities include outdoor Yoga provided by The UNL Recreation Center located north west of Woods Hall at 5:30pm, and a free bike valet service provided by The Outdoor Adventures program. Attendees who bike to campus can keep their bikes safe and secure at the Bike Valet, located at 13th & R streets on the east end of the market space. Freewill donations will be accepted with proceeds used to improve cycling on campus, including installing bike pumps near bike racks.
Jazz in June Bike Valet begins at 5 p.m. each Tuesday and ends 30 minutes after the end of the event. Although Jazz in June is a great place to bring family and friends, pets are not allowed.
Jazz in June will go green again this year to stress the benefits of an increased environmental consciousness. By reducing the sale of plastic and styrofoam containers at this year' s concerts and more intense recycling waste effort, Jazz in June organizers hope to set a green example for public gatherings in Nebraska.
For info on this year's line-up, visit jazzinjune.com
---
If you are interested in VIP Tickets, they may be purchased by calling 402-472-4747, online at http://www.liedcenter.org, or at the Lied Center ticket office, located at 301 N. 12th St. open from 11:00 a.m. - 5:30 p.m. weekdays. VIP Tickets are for the reserved section directly in front of the band. Each ticket includes a guaranteed space for one lawn chair, a beverage and a sandwich.
Those who are interested in donating or serving as a Jazz in June volunteer or board member can contact Spencer Munson, Jazz in June coordinator, at 402-429-2642 or jazzinjune@unl.edu. 
~Information above compiled from a Jazz in June press release~