Kiechel Brings Bricks to Life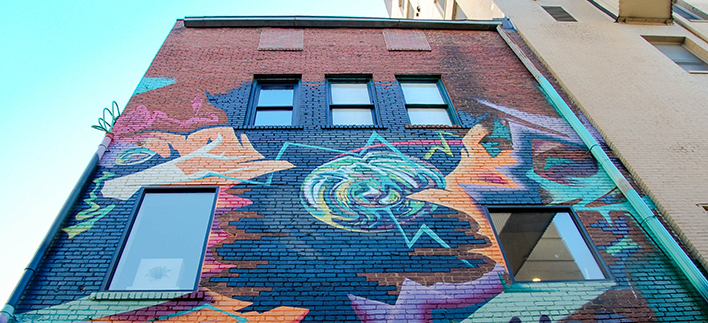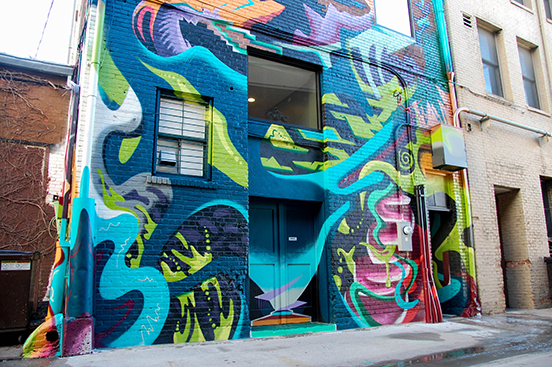 ---
For a number of years, the back of the Kiechel Fine Art building was stained and worn. 
Hoping to revive the building, Buck Kiechel, owner of Kiechel Fine Art, teamed up with local artist Spencer Pacheco to create a mural that could become a prominent part of Lincoln's art scene. 
"Buck's called it the forming of a landmark, or a really significant part of the city," Pacheco said. "They were named the number one gallery in Nebraska and it's just fitting for them to have something eye catching and original. I was super, super excited when Buck approached me. I was super glad I could give them an original and abstract piece that you can't find anywhere else."
For over a year and a half, Pacheco has worked on the mural located on the back of Kiechel Fine Art's building, which is still a work in progress.
The mural, commissioned by Kiechel, is a vibrant display of warm and cool colors in abstract shapes and form. Pacheco said the style of the mural is a mix between his full-colored watercolor paintings and his black and white illustrations.
"It's kind of mixing the two and using a lot of design elements from my illustrations, but it looks like my watercolors with all the colors mashed up," Pacheco said. "I've probably used around 20 colors."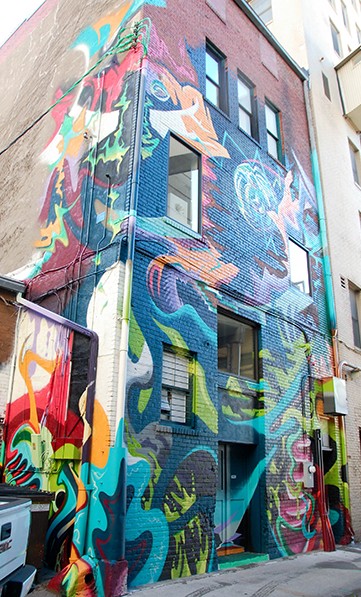 Kiechel said he first noticed Pacheco's work on a mural at Constellation Studios, Karen Kunc's building at 20th and O streets, a few years ago. He eventually contacted him through a Craigslist posting and the two came up with a plan for the building. Pacheco offered three sketched designs for Kiechel to choose from and went from there. Though the first 20 feet were planned out, the rest is improvised, something Pacheco said he's used to in his designs.
"I've kind of just let Spencer do his thing with the building," Kiechel said. "I certainly haven't given him any artistic direction. He's a wonderful, creative talent. He has a quality to turn something that is really urban decay into something that is very much artistically cool."
Painting a mural of this size is a first for Pacheco, whose other large art projects include the mural portion on Kunc's building and a lightbulb sculpture outside of Integrated Life Choices on 68th and Normal Blvd. 
Due to the sheer size of the mural, Pacheco has taken on the project in three separate phases. Phase one required a ladder. Phase two required a 35-foot lift. If the weather was stormy, too cold or windy, Pacheco couldn't paint using the lift and had to reschedule. 
Kiechel and Pacheco plan on continuing the mural to the top of the building and possibly wrapping it around to the side (phase three). Pacheco estimates the rest of the mural will take up to a year to complete. 
"Because this project is so big, we didn't set any time constraints," Pacheco said. "[Kiechel's] been really good to work with and just letting me do my thing. I work best without any constraints for time or anything so that's been really nice."
Pacheco and Kiechel said they hope more people continue to commission murals in Lincoln, both by Pacheco and other artists. 
"I certainly hope other people give him an opportunity to do this too," Kiechel said. "It certainly adds to the city and it's not a process that's hugely expensive and it's something that can add something to a lot of these older buildings."
---
Kiechel Fine Art is located at 1208 O St. 
Their hours are: 
Tuesday - Thursday: 10 AM - 6 PM
Friday: 10 AM - 8 PM
Saturday: 11 AM - 5 PM
Follow them online at:
Facebook: Kiechel Fine Art
Twitter: @KFAgallery
Instagram: KiechelArt
Website: http://kiechelart.com/
Follow Spencer Pacheco online at:
Facebook: 402Graphics
Twitter: @402Graphics
Instagram: 402Graphics