Lincoln Calling 2016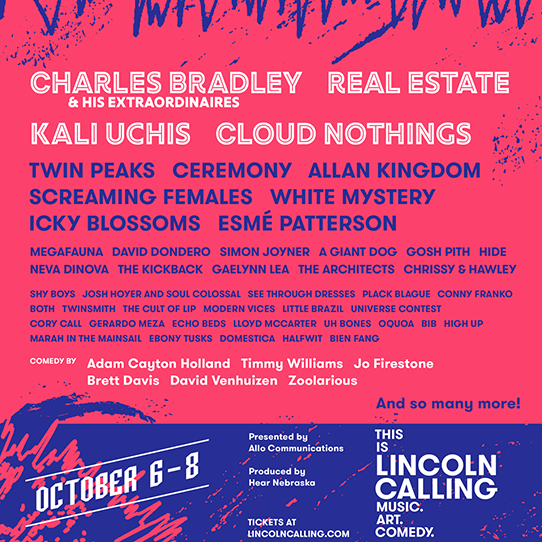 Last week, festival organizer Hear Nebraska announced the initial lineup for the Lincoln Calling Music Festival, which will be held from Oct. 6-8 in venues across downtown.
Headlining the 100+ artists and comedians performing are Charles Bradley & His Extraordinaires, Real Estate, Kali Uchis and Cloud Nothings. The lineup also features Twin Peaks, Ceremony, Screaming Females, Allan Kingdom, White Mystery and Icky Blossoms. Featured comedians include Adam Cayton Holland, Timmy Williams, Jo Firestone, Brett Davis and David Venhuizen.
Early Bird and Later Bird tickets have sold out, but $49 regular price tickets are available, as well as a number of packaged deals. 
This year marks the 12th anniversary for the festival since being founded by Jeremy Buckley in 2004, and Hear Nebraska's first entrance as the organizer of the festival. 

Festival sponsors include: Lincoln Convention and Visitor's Bureau, Nebraska Tourism Commission, Lincoln Community Foundation, Nebraska Bank of Commerce, Union Bank & Trust, Pen-Link, Firespring, Nebraska Lottery, Downtown Lincoln Association, Eagle Group, Lincoln Industries, Assurity Life, Tetrad Property Group and Bulu Box.

The 2016 Lincoln Calling will feature visual art, in conjunction with Lincoln's First Friday, as well as artist workshops on Saturday, Oct. 8. The festival has aligned with Lincoln Startup Week, YP Week and Make Lincoln. 
-- Info compiled from Hear Nebraska's press release
---
Ticket Info
- General admission, three-day passes are $49.
- Comedy-only passes are $20.
- Frontier Trustee passes are $250 and include a three-day pass, a lounge area with food, drink and other TBD perks.
- SPEED! Pass (only 10 available) at $150 gets you to the front of line at every venue and in the door even when shows are at capacity. Specialty passes range from $150-$250.
- Day passes may be available day of show — subject to availability.
Visit www.lincolncalling.com for more info, or to purchase tickets.