Little Lulu's Offers Big Taste in Small Space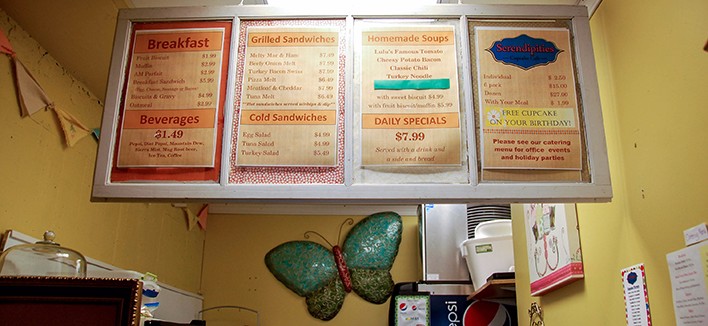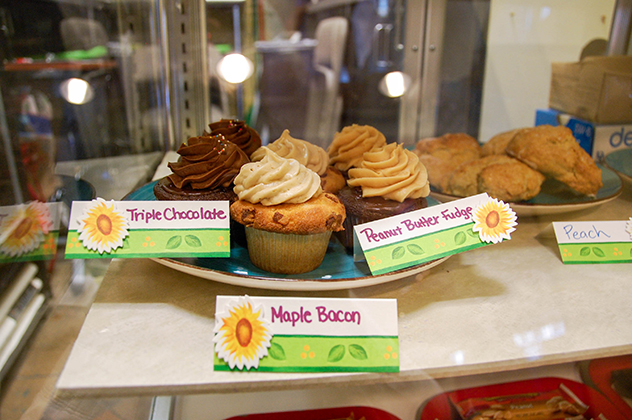 In a tucked away corner of the Downtown Wells Fargo lobby lies the small but mighty Little Lulu's. 
Little Lulu's is a breakfast and lunch shop and an offshoot of Lulu's Lunchery, a home-style restaurant located at 3939 N 48th St. which offers a larger but similar menu to Little Lulu's. 
Though only large enough for one or two employees to work behind the counter, Little Lulu's offers a wide variety of homemade items for both breakfast and lunch, in addition to Serendipities Cupcakes--another offshoot of Lulu's Lunchery. 
We visited Little Lulu's and spoke with General Manager Cassi Smith and employee Jessica Lefler about the business and their menu. 
---
Downtown Lincoln: How long have you been in Wells Fargo?
Cassi Smith: A year next month, if I remember right.
DLA: What kind of food do you serve and what are your days like here?
Smith: Our days start at 8 and that's usually our breakfast stuff. We get our coffee going and we serve our fruit biscuits (people call them scones but they're not hard). We have a breakfast sandwich which is grilled and served on Rotella's bread. Cheese, bacon, sausage, whatever they want. We also have parfaits and protein bars. And then we kind of go for a comfort food style, so what you might have at your house, your mom's or grandma's house. So we have homemade meatloaf, smoked turkey and we make mac 'n cheese. And we also have tuna salad, egg salad and we're rolling out some new stuff for the summertime. We also offer soup and biscuits.
DLA: That's a lot for a little space.
Smith: I know, we get a lot out of there. We're very organized.
DLA: Does your menu rotate? I saw you guys also do daily specials.
Smith: That's one thing we've been working on since moving down here - figuring out what people want. So we've made some changes since we started and people who have been customers from the beginning probably notice. It's so interesting because what people like changes. So we tried to figure out that balance of staying to our brand but also seeing what people want.
DLA: What are some examples of things that are different at Little Lulu's from Lulu's restaurant? I'd assume it's pretty different especially since you guys are located in Wells Fargo and serve a different type of clientele.
Smith: We originally wanted to do online ordering for that reason, since it's much more fast-paced. Our other location is much more sit down, take your time kind of thing and it has a sit-down dining area. Here, we still want to give the best customer service we can and get to know our regulars, so it's not different it's just faster. The menu options are pretty much the same, just more at Lulu's.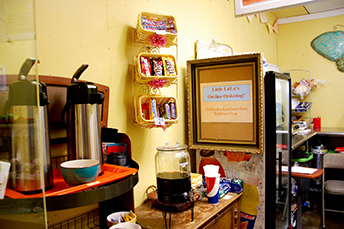 DLA: What are some of your favorite things on the menu?
Smith: It is so hard. People ask me that question when people look at the menu, but it's so hard for me to choose. I'd say the special we did with a meatloaf and mac 'n cheese sandwich or our chili. It kind of depends on the day. I really haven't found something on the menu I don't like.
DLA: Do you guys incorporate local ingredients or work with any local businesses to get ingredients?
Smith: Yeah, our eggs are actually from a farm nearby (Rosaline farms). We get our bread from Rotella, and if someone approaches us and gives us samples and we like it, we're totally open to that. We love that.
DLA: Anything else you'd like to add?
Smith: Our main thing is just comfort food and cupcakes. We like to give good food—lots of food---and we actually just did the 40th anniversary for the Wells Fargo building. We went around and gave cupcakes to everybody. 716 cupcakes. It was amazing. We just want to make people smile and make people's days. That's the best thing.
---
Pictured below are the Beefy Onion Melt and egg salad sandwich.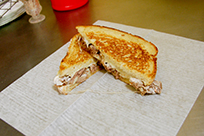 Little Lulu's is located in the Wells Fargo Building at 1248 O St. 
Their hours are:
Mon-Fri: 8 AM - 3 PM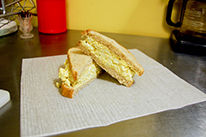 Follow them online at: 
Facebook: Little Lulu's
Website: http://www.littleluluslunchery.com/