Oddballs Vintage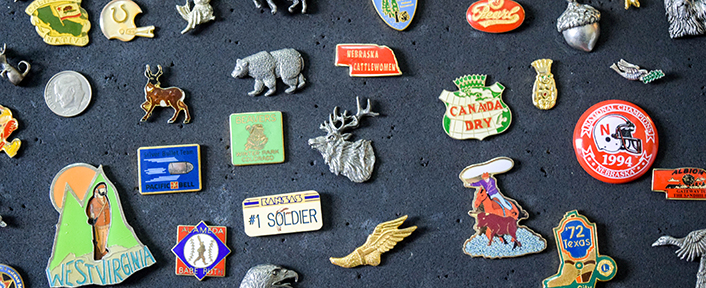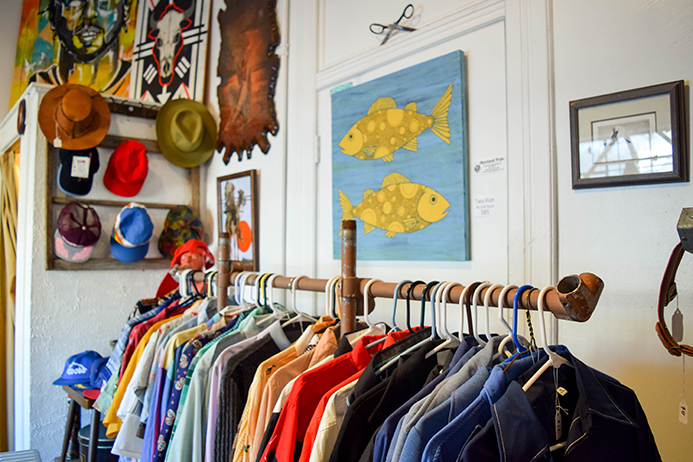 ---
For frequent thrifters, there's a thrill to finding a good pair of jeans. The type of jeans that hug you in all the right places while providing ample room to move around. The ones made from real denim that age gracefully. The kind they just don't make anymore. 
Cody Kaufman and Vincent Martinez have chased the thrill of thrifting for years, with their collection of goods steadily growing. The two joined their vintage clothing and knick-knack collection together to create Oddballs Vintage, a new store located in Parrish Studios which opened in November.
Prior to Oddballs, both Kaufman and Martinez previously ran Voufalou, a clothing shop and artists' collective also located in Parrish. 
After running Voufalou for a few years, Kaufman said the store became all over the place and they decided to focus on vintage, a niche they both enjoyed.
"We just found ourselves gravitating more toward our vintage collection," Martinez said. "We re-branded for easier brand recognition and store recognition as to what we are."
Kaufman and Martinez's thrift finds come from across the United States. Martinez, a Texas native, said he first fell in love with collecting vintage while in his home state. 
"My uncles were like, 'why are you spending $30 on a pair of jeans when you could buy three or four jeans for that price?,'" Martinez said. "Then they took me thrifting back in Texas for the first time and showed me these amazing jeans and started teaching me on denim, and how denim can actually be gold."
The Goodwill stores in Texas remain some of Martinez's favorite places to pick through.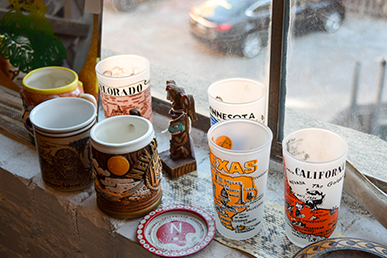 Kaufman said his favorite place to thrift can be found in Los Angeles. 
"The warehouse I've been to [in LA] is just pure vintage heaven," he said. "It's three stories big and just massive. The Southwest also has a lot of great stuff."
Like any clothing industry, there are trends to the type of vintage people are interested in. Martinez said he's noticed a gravitation toward basics in vintage--solid colors, white t-shirts and basic crew necks to name a few. Kaufman said he's noticed a resurgence of fur coats and bell bottoms. 
"We've got over 200 bell bottoms styles to choose from, 100 percent polyester," Martinez said. "We've got some pretty funky bell bottoms we just got in. People seem to really be digging on those."
Since its opening, Oddballs has begun to attract regular clientele and seen an increasing amount of foot traffic. Martinez creates the latter to the store's unique mannequin placed outside the building.
"With the brand recognition, people been able to recognize it's a vintage store," he said. "Especially when we put our sign downstairs, what draws a lot of people in is our mannequin with the deer skull head."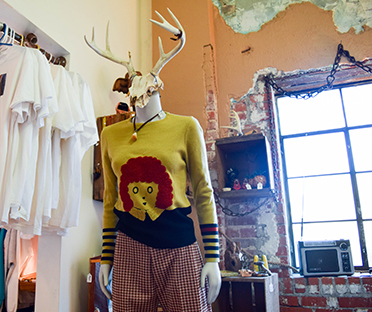 In addition to in-store sales, Oddballs sells select clothing and vintage finds on eBay and Instagram.
Both Kaufman and Martinez said they take pride in their finds and don't buy anything they wouldn't keep themselves. 
The duo plan to bring in new items each week, with an emphasis on what they're calling "Fresh Finds Fridays." 
Starting next year, Oddballs will purchase vintage from customers in addition to selling it, for either cash or in-store credit. 
"We're happy to bring our weirdness to Lincoln," Martinez said.
---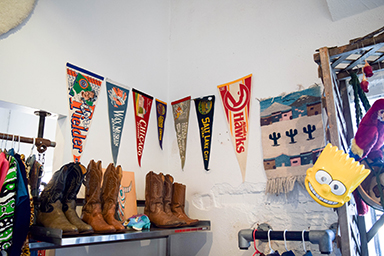 Oddballs Vintage is located at 1410 O St in Parrish Studios.
Their hours are:
Tuesday-Wednesday: 12 PM - 5 PM
Friday-Saturday: 11 AM - 6 PM
Monday, Thursday, Sunday: Closed
Follow them online at:
Facebook: Oddballs Vintage
Instagram: @oddballsvintage
Website: oddballsvintage.com/